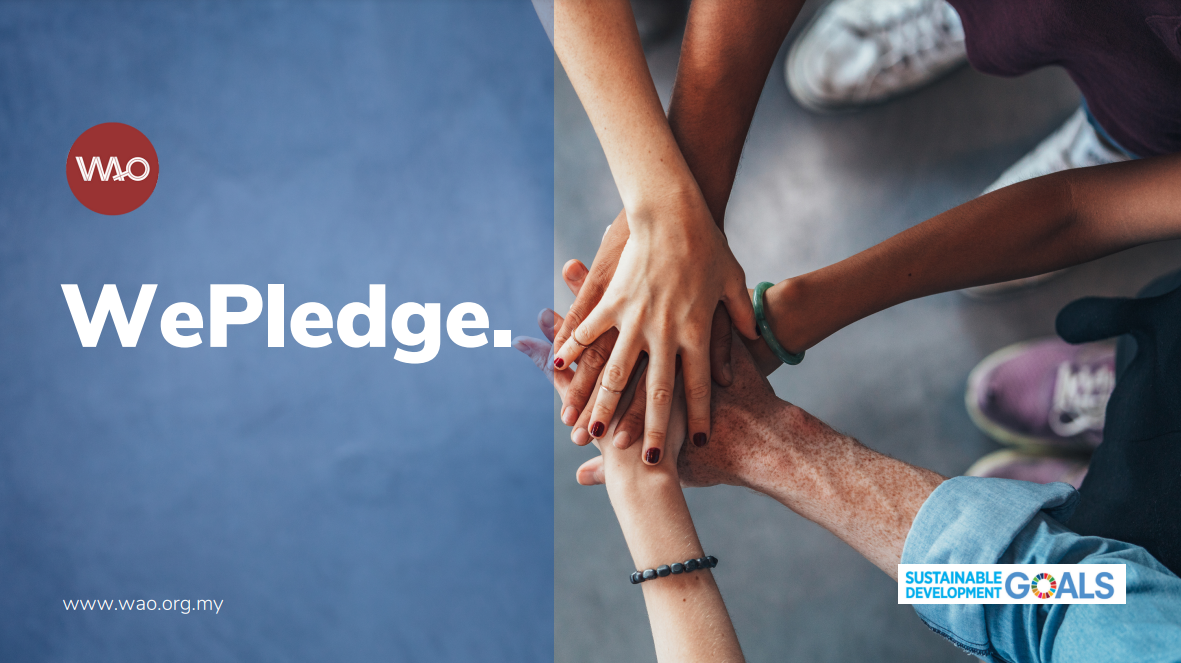 Ready to Level Up to a more gender-equal workplace?
Our Impact in 2020
WAO provided a total of 7,682 consultations (3,748 consultations in 2019) and 5,609 Case Management (2,285 in 2019)
WAO had engaged with 1,843 Women & Children in our WAO Programmes for Shelter & CCC Beneficiaries (Internal) & 299 WAO Programmes for Communities (External)
In 2020, we engaged 25,925 individuals through various activities with capacity building components (workshops, trainings, consultations, panels, events).
What is WePledge about?
We Pledge to promote gender equality and create a safe community (Komuniti Selamat) in the workplace.
The Sustainable Development Goals (SDGs) were adopted by the United Nations in 2015 as a universal call to action to end poverty, protect the planet, and ensure that by 2030 all people enjoy peace and prosperity.
The 17 SDGs are integrated—they recognise that action in one area will affect outcomes in others, and that development must balance social, economic and environmental sustainability. Source: Sustainable Development Goals | United Nations Development Programme (undp.org)
At Women's Aid Organisation (WAO), we are committed to all SDGs, specifically SDG 5 on Gender Equality — to achieve gender equality and empower all women and girls.
What does a gender equal Malaysia look like?
Safe spaces for women and girls free from violence and discrimination

Women's full and effective participation and equal opportunities for leadership at all levels of decision-making

Safe spaces in the workplace created through effective and implemented policies

The elimination of gender stereotypes, toxic masculinity, and harmful practices

Children growing up in healthy and safe homes

New parents entitled to adequate parental and maternal leave and support

Equal pay for equal work across all industries and levels
Why should you pledge?
RM3,000 contribution to WAO for one year will go towards providing  24-hour services for domestic violence care in the form of:
Social work and Case Management
Crisis Hotline support
Shelter Services
Research and Public Policy Reform
Economic and Emotional Resilience Programmes for Single Mums
Psychosocial support for survivors of domestic violence
Kids Circle and Educare Programmes
Community Outreach
What do you get for pledging?
1-hour brown bag talk (1 year validity)
Potential collaboration for a CSR engagement (sourcing for essential items / fundraiser)
3-hour coaching session for Human Resources team (HR)
WePledge Kit
WePledge Certificate for Contributors
WAO Digital Booklet (What it means to pledge gender equality in the workplace, little tips on how to promote a healthy work environment)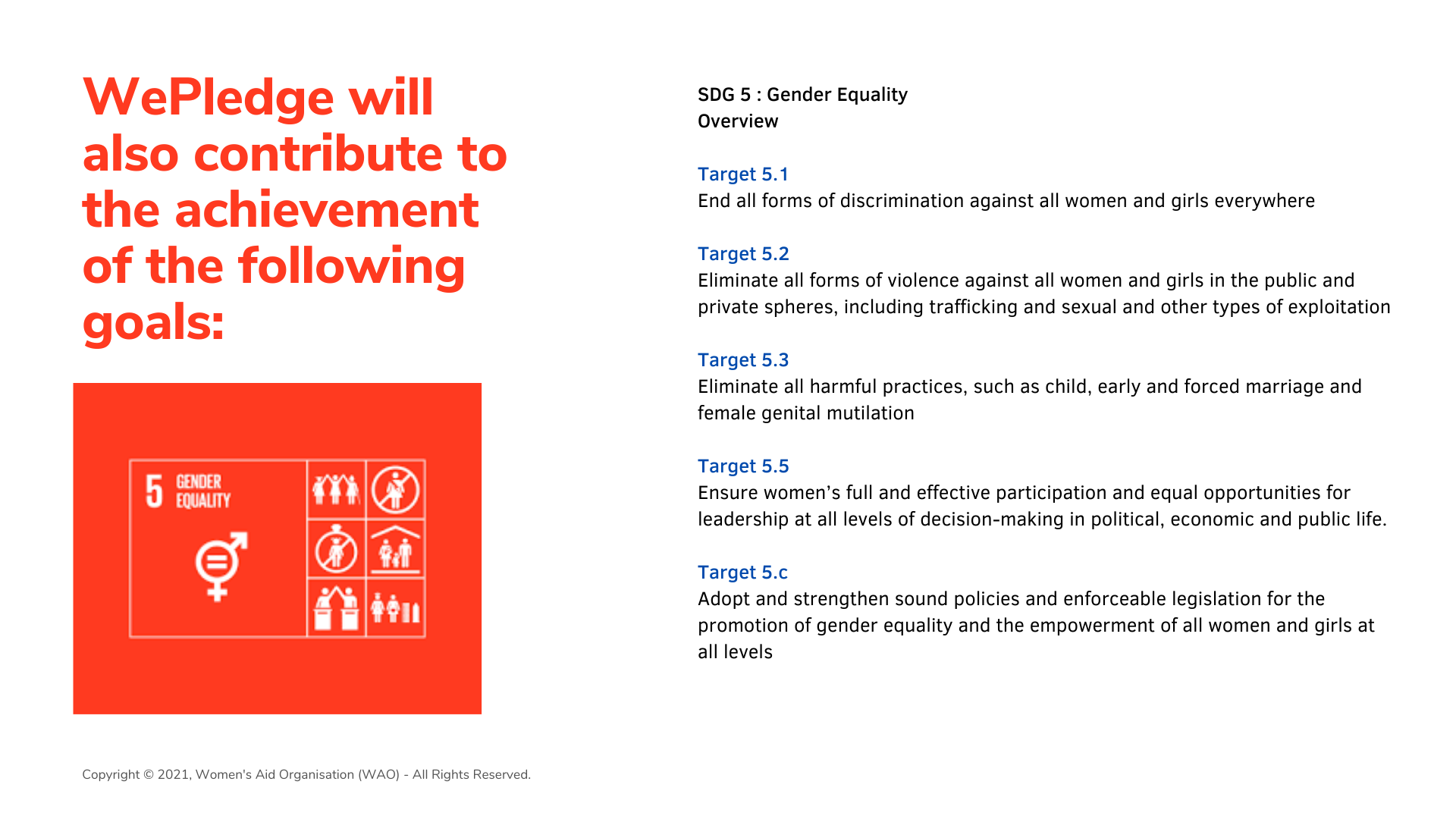 Join the pledge in creating a safe community within your organisation and contribute towards the elimination of violence against women and girls.
To find out more about WePledge, drop us an email partnership@wao.org.my