Government Public Service Announcement is working, WAO urges strong, consistent messaging on avenues for help for domestic violence survivors
Women's Aid Organisation (WAO) welcomes the National Security Council's (NSC) recent public service announcements (PSAs) on domestic violence.
These PSAs are working. The Talian Kasih 15999 April statistics show that following the PSAs, more survivors are reaching out for help.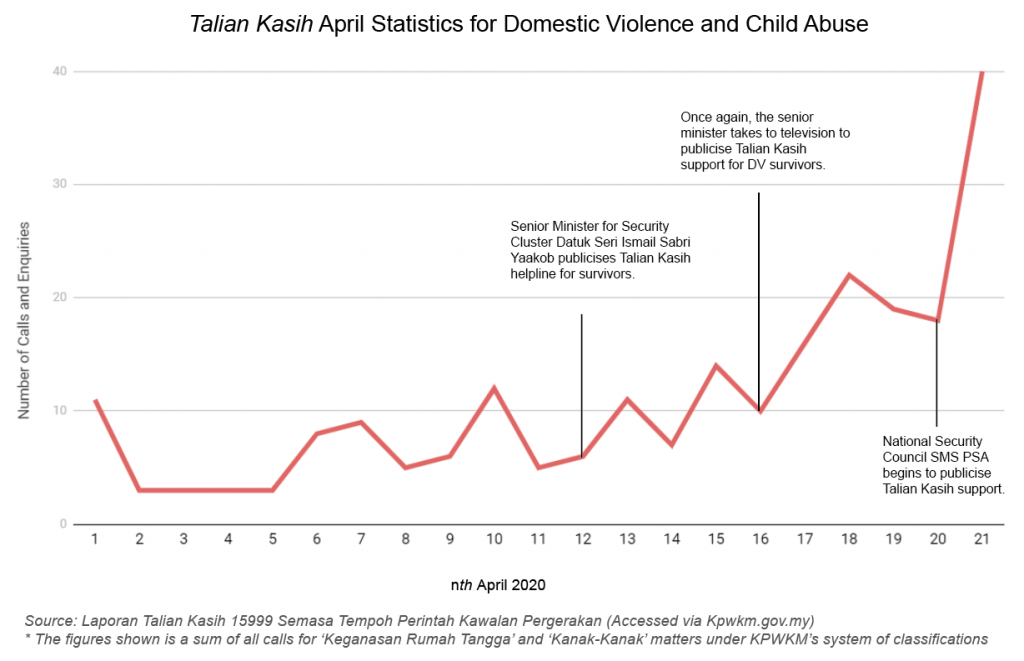 Moving forward, we urge the government – in particular the NSC, PDRM, and the Ministry of Women, Family and Community Development – to:
On regular intervals, continue issuing PSAs on domestic violence (e.g. through SMS), to inform survivors and observers (e.g. neighbours) that they can call 15999 or 999 to report abuse. This should continue during and after MCO. The PSAs should also assure survivors they will not be arrested or detained for escaping a violent household during the MCO period.
Inform the public (e.g. through press statements or social media) about how they can obtain protection orders (Emergency Protection Orders (EPO), Interim Protection Orders (IPO) and Protection Orders (PO)) during the MCO period. Currently, survivors are unsure whether and how court-issued IPOs and JKM-issued EPOs can be obtained during MCO. The government should also make clear to the public, what the process to obtain the protection orders is during the MCO.
Increase the number of Talian Kasih operators to meet the anticipated increase in demand. As the PSAs continues to roll out to the wider population, Talian Kasih may register a further uptick in survivors seeking help.
The SMS announcement, which was first sent out on 20th April, reads, "The government views seriously cases of domestic violence and abuse during the MCO. Channel your complaints to the Royal Malaysian Police or Talian Kasih (15999)." This follows on from a similar announcement on 12th April by Senior Minister for Security Cluster Datuk Seri Ismail Sabri Yaakob on television, and widely reported in the media.
Since then, according to Talian Kasih statistics published by the Ministry of Women, Family and Community Development (KPWKM), there has been an upward surge in domestic violence and child rights-related hotline activity.
Beginning from 12th April, the number of calls began a slow climb into the double-digit territory. On 20th April, after the SMS PSA, Talian Kasih hotline registered its sharpest spike in activity to-date.
WAO believes that this is due to the government signaling a clear and effective response to domestic violence, which encourages survivors and bystanders to step forward.
Research carried out by scholars at Columbia University have reported that women show "more willingness to take complaints to the police and became more sanguine that their allegations will be believed rather than denounced" when exposed to assuring media messages.
Consistent public messaging can reduce stigma around domestic violence, as well as embolden survivors and bystanders to take action. It breeds the feeling that survivors are surrounded by safe communities that will not turn a blind eye to socially harmful behaviour.To all survivors out there, you can call the 24-hour WAO Hotline at 03 7956 3488 or WhatsApp TINA at 018 9888 058 for support and assistance.
###
Pesanan Khidmat Masyarakat kerajaan berkesan, WAO seru penyampaian mesej jelas dan konsisten mengenai saluran bantuan kepada pemandiri keganasan rumahtangga
Pertubuhan Pertolongan Wanita (WAO) mengalu-alukan pesanan khidmat masyarakat (PSA) mengenai keganasan rumahtangga yang telah dikeluarkan oleh Majlis Keselamatan Negara (MKN) baru baru ini.
Pesanan khidmat masyarakat itu telah memberikan kesan. Statistik Talian Kasih 15999 menunjukkan selepas PSA tersebut disiarkan, lebih ramai pemandiri tampil meminta bantuan.
Untuk tindakan selanjutnya, kami menyeru kerajaan, khususnya MKN, PDRM, dan Kementerian Pembangunan Wanita, Keluarga dan Masyarakat untuk:
Terus menyiarkan PSA mengenai keganasan rumahtangga (contohnya melalui SMS) secara kerap, untuk memaklumkan para pemandiri dan pemerhati (contohnya jiran tetangga) bahawa mereka boleh menghubungi 15999 atau 999 untuk melaporkan penderaan. Perkara ini harus diteruskan ketika dan selepas PKP. PSA tersebut perlu memastikan para pemandiri bahawa mereka tidak akan ditangkap atau ditahan kerana melarikan diri daripada kediaman yang mempunyai persekitaran ganas ketika tempoh PKP.
Memaklumkan orang ramai (contohnya melalui kenyataan media atau media sosial) mengenai bagaimana mereka boleh mendapatkan perintah perlindungan (Perintah Perlindungan Kecemasan (EMO), Perintah Perlindungan Interim (IPO) dan Perintah Perlindungan (PO)) ketika tempoh PKP. Ketika ini, para pemandiri tidak pasti bagaimana untuk mendapatkan IPO yang dikeluarkan oleh mahkamah dan EPO yang dikeluarkan oleh JKM ketika PKP. Kerajaan juga harus memaklumkan dengan jelas kepada orang awam mengenai proses untuk mendapatkan perintah perlindungan ketika PKP.
Meningkatkan anggota pengendali Talian Kasih agar ada anggota yang mencukupi untuk menguruskan panggilan yang semakin meningkat. Ketika PSA terus diwar-warkan kepada orang ramai, Talian Kasih berkemungkinan akan terus menerima peningkatan dalam panggilan oleh pemandiri.
Pengumuman melalui SMS, yang pertama kalinya dihantar kepada orang awam pada 20 April berbunyi, " Kerajaan memandang serius kes keganasan rumahtangga dan penderaan sepanjang tempoh PKP. Salurkan aduan kepada PDRM atau Talian Kasih (15999)." Ini diikuti dengan pengumuman yang sama pada 12 April oleh Menteri Kanan Kluster Keselamatan Datuk Ismail Sabri Yaakob di televisyen, dan telah disebarluaskan oleh media.
Sejak pengumuman tersebut, menurut statistik Talian Kasih yang telah diterbitkan oleh Kementerian Pembangunan Wanita, Keluarga dan Masyarakat (KPWKM), peningkatan mendadak telah dicatatkan dalam panggilan mengenai kes keganasan rumahtangga dan hal ehwal berkenaan hak asasi kanak-kanak.
Bermula sejak 12 April, jumlah panggilan mula meningkat secara perlahan hingga mencapai angka dua digit. Pada 20 April, selepas SMS PSA, hotline Talian Kasih mencatatkan peningkatan mendadak sehingga hari ini.
WAO percaya ini berlaku kerana kerajaan sedang memberi isyarat yang jelas dan efektif kepada pelaku keganasan rumahtangga, yang seterusnya akan menggalakkan para pemandiri dan orang sekeliling untuk tampil kehadapan.
Menurut kajian yang telah dijalankan oleh pengkaji di Universiti Columbia melaporkan bahawa wanita menunjukkan "kerelaan yang lebih untuk membuat laporan kepada pihak polis dan menjadi lebih yakin bahawa dakwaan mereka akan diambil tindakan sewajarnya berbanding tidak diendahkan" apabila mereka didedahkan dengan mesej yang meyakinkan melalui media.
Mesej awam yang konsisten boleh mengurangkan stigma mengenai keganasan rumahtangga, serta memberi keberanian kepada pemandiri dan orang sekeliling untuk mengambil tindakan. Ianya akan mewujudkan perasaan bahawa pemandiri dikelilingi oleh komuniti yang selamat dan tidak akan mengabaikan kelakuan sosial yang berbahaya. Kepada para pemandiri di luar sana, anda boleh menghubungi Hotline 24 jam WAO di talian 03 7956 3488 atau WhatsApp TINA di talian 018 9888 08 untuk bantuan dan sokongan.
###
Mengenai Pertubuhan Pertolongan Wanita (WAO)
Sejak tahun 1982, Pertubuhan Pertolongan Wanita telah menyediakan tempat perlindungan, kaunseling, dan bantuan krisis percuma kepada wanita dan kanak-kanak yang mengalami penderaan. Kami membantu wanita dan anak-anak mereka membina semula hidup yang terselamat daripada keganasan rumah tangga, rogol, pemerdagangan, dan pelbagai penganiayaan lain. Pengajaran daripada pengalaman wanita-wanita yang tidak bernasib baik ini, kami ingin membela nasib mereka dengan menambah baik polisi awam dan mengubah cara berfikir masyarakat. Bersama, kita mengubah kehidupan.
###
About Women's Aid Organisation (WAO)
Since 1982, Women's Aid Organisation has provided free shelter, counselling, and crisis support to women and children who experience abuse. We help women and their children rebuild their lives, after surviving domestic violence, rape, trafficking, and other atrocities. Learning from women's experiences, we advocate to improve public policies and shift public mindsets. Together, we change lives.
For more information, please contact:
Yap Lay Sheng, Senior Research and Advocacy Officer
laysheng@wao.org.my / 018 2747 042