New Research Supports Calls to Make Stalking A Crime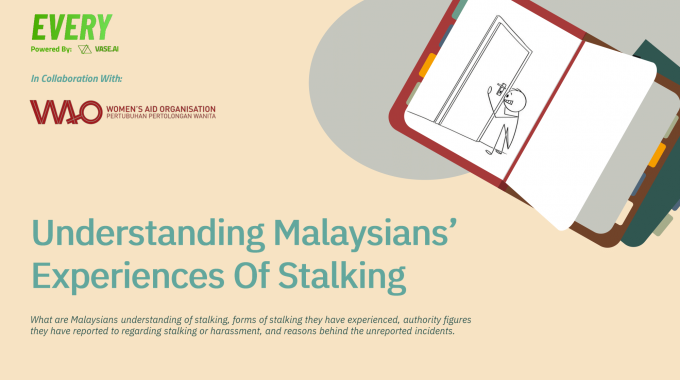 More than a third (36%) of Malaysians (39% of women and 32% of men) have experienced stalking which caused them fear –  according to a new survey by research company Vase.ai and Women's Aid Organisation (WAO). These survey respondents experienced an act associated with stalking more than once or continuously by the same person, which caused them to be fearful.
Meanwhile, one in eight (12%) respondents (8% of women and 16% of men) experienced stalking involving threats of harm, and one in six (17%) respondents (12% of women and 21% of men) experienced stalking which led to actual harm.
The survey "Understanding Malaysians' Experiences of Stalking" – based on insights from 1,008 nationally representative Malaysian men and women – sought to assess the prevalence and understanding of stalking in Malaysia. The results of the survey were shared today in a public briefing by WAO and Vase.ai.
Based on the survey results, acts associated with stalking experienced by Malaysians include receiving unwanted phone calls or messages, receiving unwanted gifts, being watched or followed, having individuals show up at their home, workplace, or school unwanted, and having their property vandalised.
The survey results support calls to make stalking a crime, and afford protection to survivors.
Prevalence of stalking
The results of the survey "Understanding Malaysians' Experiences of Stalking," revealed that 88% of Malaysians have experienced an act associated with stalking, with 60% of Malaysians having experienced these acts on more than one occasion or continuously – with 34% of Malaysians experiencing an act of stalking in the past year.
Malaysians experienced various acts associated with stalking. 74% of respondents received unwanted phone calls or messages from people, while 76% of respondents received unwanted emails, chats or messages via platforms such as Facebook and Instagram. 12% of respondents had been spied on via a listening device, camera or GPS on more than one occasion, while 32% of respondents have been watched or followed from a distance before. 33% of Malaysians have experienced individuals who they did not want, showing up at their homes, workplace, or school.
Impact of stalking
In addition to causing fear and leading to actual harm, stalking negatively affects economic, social, educational, and household activities.
Almost half of Malaysians (46%) who experienced acts associated with stalking suffered a negative impact on their daily life. Nearly one-fifth (18%) of respondents who experienced an act associated with stalking said they were unable to focus in their employment place; 17% could not or didn't feel safe being alone in public; and 6% could not or did not feel safe to attend university or a skills training course.
Reporting of stalking
69% of respondents who experienced an act of stalking did not report it to the police. Of these respondents, nearly half (45%) did not make a police report because they didn't believe the police could or would help.
Of the 31% of respondents who did make a police report, near half (47%) were not satisfied with the action taken by the police.
Making stalking a crime would enable the authorities to better respond to reports, and ensure those being stalked are protected.
Need for anti-stalking law
In addition to an anti-stalking law defining and criminalising acts of stalking and affording protections to survivors, such a law would also help to enhance societal understanding of stalking and spread awareness both on the part of survivors of stalking as well as on the part of perpetrators who are engaging in acts of stalking.
Although the survey results found that 69% of Malaysians believe that stalking is wrong, the high prevalence and low reporting rates of stalking suggest that there may be a gap in the law, whereby although stalking is a fairly common occurrence, it is going unreported and unpunished.
WAO urges the Minister of Law, Dato' Takiyuddin Hassan, to take heed of the new survey results and lead the government in making stalking a crime without delay.
About the survey
The complete survey results are available at: https://vase.ai/data-trust/projects/anti-stalking. WAO's report on the survey results is available here.
The survey was administered to Vase.ai, a leading digital consumer research company in Malaysia. Since its inception, it has provided consumer insights to more than 100 enterprises and GLCs, and its public opinion data is frequently published in major publications.
"Every" by Vase.ai is a consumer innovation platform that enables organisations to innovate together with consumers in real-time. Every can also be used for rapid public opinion polling, with the capability to collect opinions from 1,000+ nationally representative Malaysians in hours. Organisations are using Every to build better products, brands, and public policies together with the people, for the people.
With Every, the Vase Data-Trust Initiative was born. The Vase Data-Trust initiative mission is to open up our internal researches' proprietary datasets to the public and allow organisations to analyse, find insights, and publish results.
Respondents aged 18 years old and above were quota sampled according to census statistics by Race, Gender, Age and Region of residence.
The survey was co-conceptualised by WAO and Vase.ai, to gather evidence around the prevalence of stalking and the need for an anti-stalking law. WAO's advocacy work is supported by Yayasan Sime Darby.
For further information about the Survey Findings Launching material, you can visit here: Press Kit and Video Link 
###
About Women's Aid Organisation (WAO)
Since 1982, Women's Aid Organisation has provided free shelter, counselling, and crisis support to women and children who experience abuse. We help women and their children rebuild their lives, after surviving domestic violence, rape, trafficking, and other atrocities. Learning from women's experiences, we advocate to improve public policies and shift public mindsets. Together, we change lives.
Call the WAO Hotline at 03 7956 3488 or SMS/WhatsApp TINA at 018 988 8058 if you or someone you know is experiencing abuse. For more information, visit wao.org.my.
For more information, please contact:
Natasha Dandavati, Head of Campaigns
natasha@wao.org.my
Rusni Tajari, Senior Advocacy Officer
rusnitajari@wao.org.my/ 60133802287