Protection services for domestic violence survivors available during conditional MCO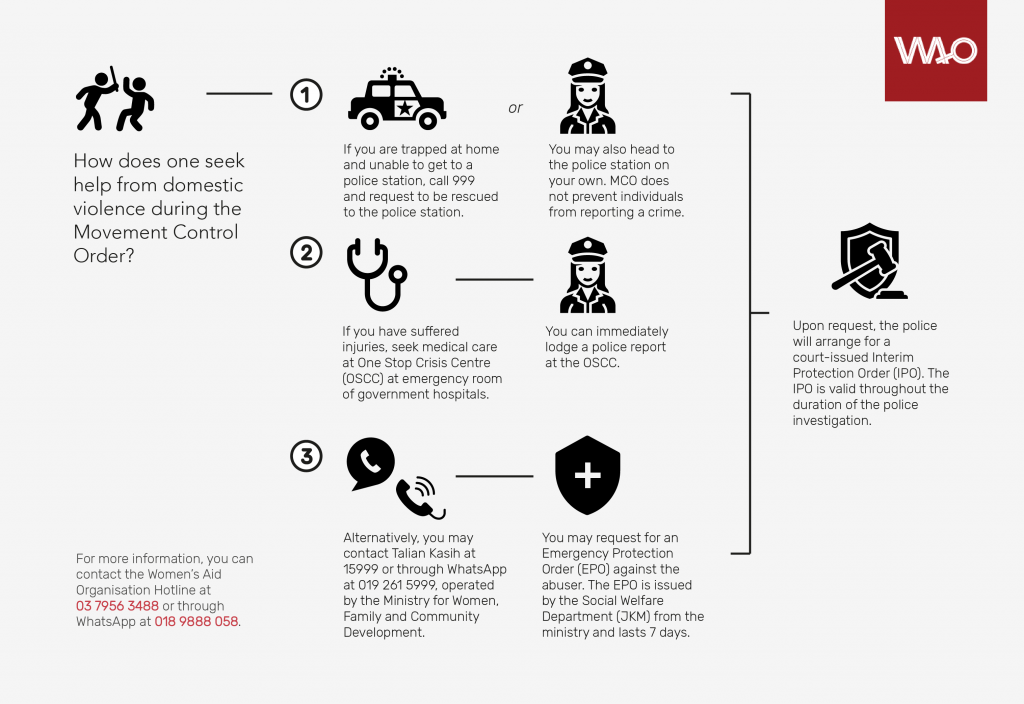 Domestic violence survivors can access a range of protection mechanisms during the conditional Mmovement Control Order (MCO). These mechanisms include police reports, Interim Protection Orders, Emergency Protection Orders, and medical care at the One Stop Crisis Centres in government hospitals.
Currently, there are three main avenues for survivors to obtain protection.
First, survivors can go to a police station to lodge a police report and to simultaneously apply for an Interim Protection Order (IPO), which is valid throughout the police investigation.
Upon receiving the survivor's police report and IPO request, the police officer can contact a senior registrar at the relevant court to arrange for the IPO to be issued. Alternatively, the police officer can notify a Social Welfare Department officer, who will then contact the senior registrar at the court. During the MCO, the courts have designated certain senior registrars to handle IPO applications.
If a survivor is trapped at home and is unable to get to a police station, she can instead call 999 and request to be rescued and brought to the police station.
During the conditional MCO, all police reports about crimes under Malaysian law, including domestic violence, will be investigated as usual.
Second, survivors can contact Talian Kasih at 15999 or through WhatsApp at 019 261 5999 to request for an Emergency Protection Order (EPO), which is issued by the Social Welfare Department (JKM) and lasts for seven days.
Third, survivors can go to the One Stop Crisis Centre (OSCC), which is located in the emergency room of government hospitals. At the OSCC, survivors can get a medical examination—the results of which may be used as evidence—as well as lodge a police report and initiate the IPO application process.
During the COVID-19 crisis, all OSCCs are still operating as usual. As a precaution, however, survivors should wear face masks, sanitise their hands regularly, and practice social distancing when visiting the OSCC.
While protection services for domestic violence survivors are available during the conditional MCO, these services need to be strengthened and expanded further.
In particular, the government must increase the availability of shelters. WAO is providing emergency temporary shelter, and there is an overwhelming demand for these services. Many other shelters are also full.
To address the urgent need for shelters, the government should set up temporary shelters in hotels or hostels. The government can also collaborate with the private sector in providing shelter.
Ensuring access to protection and shelter is critical given the current spike in domestic violence.
Our records show that WAO Hotline calls and messages relating to domestic violence and child abuse reaches a new peak every week over the course of the MCO. In the third week of April, WAO Hotline calls and messages registered a four-fold increase compared to a typical week in February, before the MCO was imposed.
If you or someone you know is experiencing domestic violence, you can contact the WAO Hotline at 03 7956 3488 or through WhatsApp at 018 9888 058.
All information above about protection for survivors has been verified by the relevant government agencies to WAO, or publicly.
###
About Women's Aid Organisation (WAO)
Since 1982, Women's Aid Organisation has provided free shelter, counselling, and crisis support to women and children who experience abuse. We help women and their children rebuild their lives, after surviving domestic violence, rape, trafficking, and other atrocities. Learning from women's experiences, we advocate to improve public policies and shift public mindsets. Together, we change lives.
Call the WAO Hotline at 03 7956 3488 or SMS/Whatsapp TINA at 018 988 8058 if you or someone you know is experiencing abuse. For more information, visit wao.org.my.
For more information, please contact:
Tan Heang-Lee, Head of Campaigns
heanglee@wao.org.my / 016 665 3237