WAO #GirlsforGoals Campaign Works to Ensure No Girl Left Behind During Pandemic
In these challenging times, girls from marginalised communities are facing great difficulties in accessing hygiene products and maintaining their health. As such, Women's Aid Organisation (WAO) has launched the #GirlsForGoalschallenge to raise awareness of girls' rights and to provide self-care packages to girls from underserved communities in Malaysia.
Through the campaign, WAO aims to raise RM 23,000, which would fund self-care packages consisting of hygiene products and health supplements for 230 girls. To ensure the sustainability of the programme, girls who receive the self-care packages can also subsequently join an online platform that provides a space for them to have conversations about their rights and develop connections, as well as to participate in a sports training programme with built-in human rights awareness.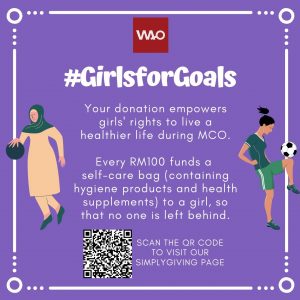 We are calling on role-models of all ages and genders to participate in the challenge through these easy steps:
Write down a goal you'd like to see achieved for girls with the hashtag #GirlsforGoals.
Say "Hi, I am (name), and I'm doing the #GirlsforGoals challenge"
And this is the Goal I want for Girls, while presenting the goal to the camera.
Do the challenge. The challenge can be 20 lunges, 5 burpees, or anything sports-related. Unleash your creativity!
Tag 3 friends and challenge them to their goals.
Donate to the fund at https://www.simplygiving.com/event/girlsforgoals
Former squash champion Nicol David is among those who participated in the challenge.
"My hope for girls out there is that they keep safe and there are no limits for them," David shared through Instagram stories, urging others to join her as well.
The captain of the Malaysian national cricket team, Winifred Anne Duraisingam, also took part in the challenge and shared her hope for "girls… to turn their weakness into strengths", while Malaysian footballer Syed Adney expressed his hope for "equal rights for all women."
Keshika Subbarao, a football coach and WAO Sports ambassador, also joined the challenge and stated her goal for "all girls having access to education".
Girls have also voiced their support for the campaign. Hannah, 15, said, "[The campaign is] important because it can help to restore a sense of normalcy (although fully restoring normalcy is pretty much impossible) and it's one less thing to see to. It also shows that [girls] aren't forgotten and that these needs are remembered."
Yuvati, 14, shared, "I think it is important to raise funds to supply underprivileged girls because, not only do they not have enough money to buy basic necessities, especially with the MCO going on, but they have no support. It is also important to help them because, if we don't help them, who will?"
Yuvati added, "WAO is like a family to all the girls in the world, and families help each other in a time of need. I really hope that this challenge can raise enough funds to supply underprivileged girls with a self-care package."
Those who participate in the #GirlsForGoals challenge can tag WAO on Twitter, Facebook, and Instagram at @womensaidorg.
If you or someone you know is experiencing domestic abuse, you can contact the 24-hour WAO Hotline at 03 7956 3488 and through WhatsApp at 018 9888 058 for free and confidential information and access to crisis support services.
###
About Women's Aid Organisation (WAO)
Since 1982, Women's Aid Organisation has provided free shelter, counselling, and crisis support to women and children who experience abuse. We help women and their children rebuild their lives, after surviving domestic violence, rape, trafficking, and other atrocities. Learning from women's experiences, we advocate to improve public policies and shift public mindsets. Together, we change lives.
For more information, please contact:
Yap Lay Sheng, Senior Research and Advocacy Officer
laysheng@wao.org.my / 018 2747 042