Building Girls' Self-esteem through Reading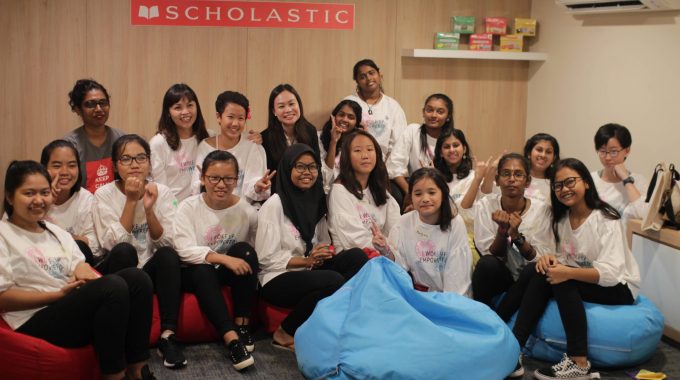 From beauty commercials to airbrushed fashion models to the latest fad diet, unrealistic beauty expectations bombard girls relentlessly, chipping away at their self-esteem. It is no wonder that growing up can be a labyrinth for many adolescent girls.
To equip girls in facing these beauty expectations, Scholastic Asia recently launched the book 'Love Your Body' by Jessica Sanders. The book encourages young girls to admire and celebrate their bodies for all the amazing things they can do, and to help girls see that they are so much more than their bodies.
Speaking at the book launch, Teo Nie Ching, the Deputy Education Minister, highlighted that improving girls' body image is crucial for their empowerment.
"During puberty, many girls feel self-conscious about their changing bodies. Poor body image affects girls' mental health and contributes to eating disorders. During this critical stage, we must teach girls to love and respect themselves and their bodies."
"Do not let any label limit or define you. You were born in the presence of those who love you most. Above all else, you are in charge of your body and your mind. Never give up, you will never surrender, and you will never lose hope," Teo told a group of girls, while officiating the book launch on 23 November at the Scholastic Reading Lounge in Sunway Pyramid.
Meanwhile, Stephanie Wang, Regional Marketing Director of Scholastic Asia shared, "In an ever-changing world, Scholastic recognises the importance of diverse representation in the content children consume, and it can start with books that they read from young. We're proud to bring 'Love Your Body' which empowers self-esteem and celebrates uniqueness as they go through changes from their teenage years to adulthood and beyond."
"Scholastic's mission is to help children read and learn. When children read, they are not just building their language fluency but these stories help them understand the world they live in and build confidence, empathy and higher-order thinking."
Scholastic Asia has also partnered up with the Women's Aid Organisation (WAO) to promote self-love among young girls through 'Love Your Body'.
"Through our collaboration with WAO, we look forward to reach more children, especially adolescent girls, to promote self-love, self-appreciation and self-respect as building blocks in their character development," said Wang.
Meanwhile, Sumitra Visvanathan, Executive Director of WAO, said that reading helps girls develop an independent mind.
"Our society conditions girls to fit into confining gender roles. For girls and women, this means looking a certain way, being subservient, and definitely not being yourself."
"Reading opens girls' minds, conditioning them to be curious and questioning. Reading books like 'Love Your Body' helps girls to question society's beauty standards and gender norms."
"My message to all girls out there is this: Read. Read and never stop reading. In books you will find not just comfort and guidance, but most importantly, the germination of your independent mind."
'Love Your Body' will be available on online shopping platform Shopee from December 2019 onwards. For every book sold, Scholastic Asia will donate RM 2 to WAO.
Readers can also visit the Scholastic Reading Lounge, which is a "family-friendly library" offering a wide range of over 500 quality books for pre-schoolers up to young adults. The lounge, located in Sunway Pyramid, is operational from 30 November onwards.