Smash the Glass Ceiling, Yeoh Tells Girls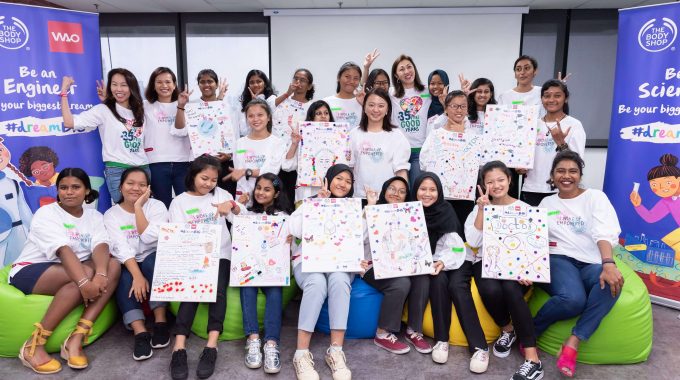 Deputy Minister of Women, Family and Community Development Deputy, Hannah Yeoh told girls to smash the glass ceiling and not let anyone hinder them from achieving their dream.
She shared this advice with a group of girls at the #dreamBIG event last Saturday, jointly organised by The Body Shop and Women's Aid Organisation (WAO), in celebration of the International Day of the Girl.
"There are many limitations and glass ceilings that have been put over girls and women. And even very strong and powerful women, they too have glass ceilings over them."
"And because of that, I just want to challenge all the girls here. Smash those glass ceilings and don't allow anyone to cap your growth."
She also shared about the glass ceilings she faced in her career, and how she overcame them.
"When I was called into politics 11 years ago, the ceiling that was put over me is 'you are young, you are not experienced, you cannot become a politician'."
"I had to work extra hard to smash that limitation, to say that my age is not a barrier."
"So wherever you are, whatever stage of life you're in, there will always be limitations. Don't worry, just work around it, don't let that cripple you."
The girls, who come from diverse backgrounds, also presented their dreams and aspirations to Yeoh. Their dreams ranged from becoming an author to providing free healthcare to those in need to using music and art to connect people.
"I really have the passion for writing more than anything. So I really want to become the best author so I will write about people and their struggles and how I can help them to solve it," said Helen, 16.
"My ambition is to be a doctor. I want to provide free treatment to all the people staying in the world," shared Vaishnavi, 14.
"I want to use music and art to change the world because in my opinion, these are universal languages," said Ariana, 14.
In her speech, Yee Pek Mei, President of WAO, highlighted the importance of a supportive environment for girls.
"It's by creating a supportive environment that we can help girls thrive and achieve their dreams. This includes providing girls with education that sparks their curiosity, creativity, and critical-thinking, education that prepares them for a changing world."
Meanwhile, Datin Mina Cheah-Foong, Managing Director of The Body Shop Malaysia emphasised that girls must be given opportunities to pursue their dreams.
"As an activist brand selling beauty products, we are always at the forefront of empowering women and girls to be more than beautiful (#BeMoreThanBeautiful). We believe that all girls can be anything they dream of and should be given the opportunity to pursue their dreams. Society stereotypes should not stop girls from being their biggest dream."
"We as adult women can and should create opportunities for our girls to pursue their dreams."
As an extension of the #dreamBIG campaign, The Body Shop Malaysia and WAO will be running a 6-month sports empowerment programme for inner-city girls this year. The programme aims to coach and educate 16 year old girls from low-income communities on self-confidence, health, relationships, and community-building through sports.
Customers of The Body Shop Malaysia will have the opportunity to contribute to the campaign as part of the sales proceeds from their purchases with The Body Shop Malaysia will be used to fund this programme.
###
Pecahkan Siling Kaca, Pesan Hannah Yeoh kepada Kanak-kanak Perempuan
Timbalan Menteri Pembangunan Wanita, Keluarga dan Masyarakat, Hannah Yeoh berpesan kepada kanak-kanak perempuan supaya memecahkan siling kaca yang menjadi penghalang kepada cita-cita mereka dan jangan membiarkan sesiapa pun mengganggu usaha mereka untuk mencapai impian.
Beliau berucap di acara #dreamBIG anjuran bersama The Body Shop dan Pertubuhan Pertolongan Wanita (WAO) bersama sekumpulan kanak-kanak perempuan Sabtu lepas sempena sambutan Hari Kanak-Kanak Perempuan Antarabangsa.
Terdapat banyak kekangan dan juga "siling kaca" yang telah diletakkan ke atas kanak-kanak perempuan dan juga wanita. Walaupun ramai wanita yang cekal dan berjaya, tetapi mereka juga masih mempunyai siling kaca yang perlu untuk dipecahkan."
"Oleh kerana itu, saya mahu mencabar setiap kanak-kanak perempuan yang ada di sini untuk memecahkan siling kaca itu dan jangan biarkan sesiapa meletakkan had atau halangan kepada perkembangan dan kejayaan anda."
Beliau juga berkongsi mengenai siling kaca yang berjaya dipecahkan dalam kerjayanya dan bagaimana beliau mengatasi cabaran-cabaran tersebut.
"Ketika saya menyertai politik 11 tahun yang lalu, siling yang diletakkan ke atas saya adalah usia saya yang muda, oleh itu saya tidak boleh menjadi ahli politik."
"Saya perlu bekerja dengan lebih keras untuk mengatasi perspektif itu dan membuktikan bahawa usia saya bukanlah satu halangan."
"Jadi, walau di mana pun anda berada, di peringkat hidup yang mana sekali pun, akan sentiasa ada halangan. Jangan risau, cuba untuk mencari penyelesaian dan jangan biarkan halangan tersebut menjatuhkan semangat anda."
"Kanak-kanak perempuan yang datang daripada pelbagai latar belakang yang berbeza telah mempersembahkan impian dan aspirasi mereka kepada Yeoh. Antara impian-impian mereka adalah untuk menjadi penulis, menawarkan perkhidmatan kesihatan percuma kepada yang memerlukan serta menggunakan muzik dan seni untuk menghubungkan manusia.
"Saya mempunyai minat yang mendalam dalam bidang penulisan. Oleh itu, saya ingin menjadi seorang penulis terbaik yang menulis tentang manusia dan kepayahan mereka serta bagaimana caranya untuk saya membantu mereka."kata Helen, 16.
"Cita-cita saya adalah untuk menjadi seorang doktor. Saya ingin menyediakan rawatan percuma kepada semua orang di dunia," kata Vaishnavi, 14.
"Saya ingin menggunakan muzik dan seni untuk mengubah dunia kerana pada pendapat saya, muzik adalah bahasa universal," ujar Ariana, 14.
Dalam ucapannya, Yee Pek Mei, Presiden WAO menegaskan kepentingan persekitaran yang menggalakkan bagi kanak-kanak perempuan.
"Dengan memberikan persekitaran yang menggalakkan, kita dapat membantu kanak-kanak perempuan dalam mencapai impian mereka. Ini termasuklah menyediakan pendidikan yang akan merangsang rasa ingin tahu, kreativiti, dan pemikiran kritikal yang akan membantu mereka bersedia untuk dunia yang sentiasa berubah.
Sementara itu, Datin Mina Cheah-Foong, Pengarah Urusan The Body Shop Malaysia menegaskan bahawa kanak-kanak perempuan perlu diberikan peluang untuk mengejar impian mereka.
"Sebagai jenama produk kecantikan aktivis, kami sentiasa berada di hadapan dalam pemerkasaan wanita dan kanak-kanak perempuan untuk menjadi lebih daripada sekadar cantik (#BeMoreThanBeautiful). Kami percaya semua kanak-kanak perempuan boleh menjadi apa yang mereka impikan dan perlu diberi peluang untuk mengejar impian mereka. Stereotaip masyarakat tidak sewajarnya menjadi penghalang kepada mereka dalam mengejar impian."
"Kita sebagai wanita dewasa boleh dan harus mencipta peluang untuk anak-anak kita mengejar impian mereka."
Sebagai sambungan kepada kempen #dreamBIG, The Body Shop Malaysia dan WAO akan menjalankan program pemerkasaan sukan selama 6 bulan bagi kanak-kanak perempuan di bandar pada tahun ini. Program ini bertujuan untuk melatih dan mendidik remaja perempuan berumur 16 tahun daripada komuniti berpendapatan rendah mengenai keyakinan diri, kesihatan, hubungan, dan pembangunan komuniti melalui sukan.
Para pelanggan The Body Shop berpeluang untuk menyumbang kepada kempen ini melalui pembelian produk The Body Shop yang mana hasil jualannya akan disalurkan untuk membiayai program ini.
###
杨巧双呼吁女孩们,打破玻璃天花板
妇女、家庭和社会发展部副部长杨巧双呼吁女孩们打破玻璃天花板,别让任何人成为梦想路上的阻碍。
她上周六出席妇女援助组织(WAO)和美体小铺(The Body Shop)配合国际女童日联合举办的 #dreamBIG活动上如是和一群女孩分享。
"女孩和女人们面对各种局限和玻璃天花板,即便是强势、有能力的女人,也难逃玻璃天花板。"
"因此,我想挑战在场的女孩们,打破玻璃天花板,别让任何人限制你的成长。"
她也分享了自己在职涯中面对的玻璃天花板,以及如何克服。
"我11年前从政时,也遇过'你太年轻了,你经验不足,你无法成为政治人物'的玻璃天花板"。
"我加倍努力去打破种种局限,以证明我的年纪不是障碍。"
"无论你是谁,处在哪个人生阶段,局限总会存在。但无需担心,面对并克服它,别让它削弱你。"
来自不同背景的女孩们也向杨巧双讲述了自己的梦想和抱负。她们的梦想包括成为作家、为有需要的人提供免费医疗和透过音乐及艺术拉近人与人之间的距离。
"我对写作有着无比的热忱。我想成为最棒的作家,写出人们面对的挣扎和我能够如何帮助他们。"16岁的海伦这么说。
"我的志愿是成为医生。我想为全世界的人提供免费医疗服务。"14岁的瓦湿拉维表示。
"我想用音乐和艺术改变世界,因为我认为,它们是世界通用语言。"14岁的艾丽安娜说。
妇女援助组织主席Yee Pek Mei在致词中强调,为女孩创造支持性环境的重要性。
"惟有创造支持性环境能帮助女孩们茁壮成长并实现梦想。这包括为她们提供能够激发好奇心、创造力、批判性思考,预备她们迎向变动世界的教育。"
与此同时,马来西亚美体小铺的董事总经理拿汀Mina Cheah-Foong也强调女孩们应被赋予追求梦想的机会。
"作为销售美妆产品的积极分子品牌,我们一直都站在赋权女性的前沿,希望她们能'超越美丽'(#BeMoreThanBeautiful)。我们相信只要拥有追求梦想的机会,所有的女孩都能实现她们的梦想。"
"我们身为女人,应该为女孩们创造追求梦想的机会。"
作为#dreamBIG 活动的延伸,马来西亚美体小铺和妇女援助组织将会在今年为内城区的女孩们进行为期 6个月的体育赋权计划。这项计划旨在透过体育引导来自低收入群的16岁女孩,协助她们建立自信,并在健康、人际关系和社群建立上有所提升。
马来西亚美体小铺的部分收益将用作这项计划的基金,换句话说,到美体小铺消费的顾客将有机会为这项计划尽一分力。