WAO collaborates with MERCY Malaysia and MOH to support abuse survivors through national COVID-19 psychosocial support hotline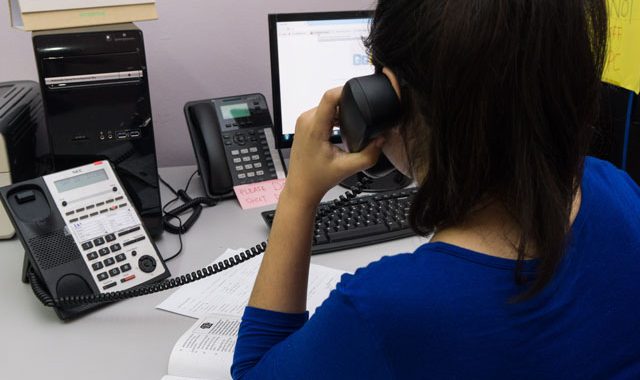 Effective 15th April, survivors of domestic violence and child abuse can now seek help through a national COVID-19 psychosocial support hotline (03-2935 9935), first set up by MERCY Malaysia and the Health Ministry's Crisis Preparedness and Response Centre (CPRC), and now linked to Women's Aid Organisation's (WAO) domestic violence hotline (03-7956 3488).
View Bahasa Malaysia statement
In addition to existing mental health and psychosocial support by the hotline, callers will also be given a third option of speaking to a WAO crisis support officer about cases of child abuse and domestic violence through an automated response system. Once connected, WAO will then provide advice on options for domestic violence survivors, and if needed, to help individuals seek police protection.
WAO currently has 14 active crisis support officers who are hotline operators, as well as a number of staff on standby to meet the expected increase in those seeking help from domestic violence. This complements the 19 psychosocial volunteers from MERCY Malaysia and 10 counsellors from the Health Ministry who are currently operating the hotline.
As the movement restriction measures have been put in place to tackle the COVID-19 pandemic, many at-risk women and children find themselves 'locked' into the same houses as perpetrators. At the same time, resources are diverted to address the pandemic, reducing the critical social infrastructure such as social services, access to the criminal justice system, as well as women's sexual and reproductive healthcare that are crucially needed to protect domestic violence survivors.
This COVID-19 psychosocial support hotline will enable us to reach more survivors of abuse, who are at greater risk during the MCO. Recent statistics indicate that as the MCO prolongs, domestic violence in the household has only intensified.
WAO initially reported a 44 per cent increase in WAO Hotline calls and WhatsApp enquiries from February to March 2020. Subsequently, we saw an even greater spike: in the first half of April, WAO received 264 calls and WhatsApp enquiries, which is a 111.2 per cent increase compared to 125 calls and WhatsApp enquiries over a 14-day period in February.
This joint hotline between the ministry and NGOs is an important step. It enshrines the importance of collaboration between the government and the third sector in times of national need. To further strengthen the response to domestic violence during the MCO, we reiterate our recommendations to the government to take these six urgent actions:
Issue clear SOPs for responding to domestic violence during the MCO;
Ensure that survivors can obtain Interim Protection Orders (IPOs) and Emergency Protection Orders (EPOs);
Publicise support pathways for survivors;
Improve the availability of temporary shelters, and make them an essential service;
Ensure that financial aid reaches domestic violence survivors;
Allocate sufficient resources to ensure an effective emergency response.
If left unattended, a health crisis amplifies the existing inequalities of our society that are built along the lines of gender, citizenship, ethnicity and socio-economic status. To rebuild a resilient economy and society after the pandemic, we need a national response that accounts for the unique needs of different communities. The good work by MERCY Malaysia and MOH is an important step. Let us work together to build resilience for at-risk individuals and communities.
To survivors out there, you can contact the 24-hour WAO Hotline at 03 7956 3488 or through WhatsApp at 018 9888 058 (24 hours), or call the MERCY Malaysia-MOH COVID-19 psychosocial support hotline at 03 2935 9935 for a wider array of support (8am -5pm everday).
###
WAO bekerjasama dengan MERCY Malaysia dan KKM membantu mangsa dera melalui hotline sokongan psikososial COVID-19 nasional
Bermula 15 April, mangsa keganasan rumah tangga dan penderaan kanak-kanak boleh meminta bantuan melalui hotline sokongan psikososial COVID-19 (03-2935 9935). Mula digerakkan oleh MERCY Malaysia dan Pusat Kesiapsiagaan dan Tindakan Cepat Krisis Kebangsaan (CPRC), Kementerian Kesihatan Malaysia, dan kini disambungkan kepada hotline keganasan rumah tangga Pertubuhan Pertolongan Wanita (03-7956 3488).
Sebagai penambahan kepada sokongan kesihatan mental dan sokongan psikososial yang disediakan, pemanggil juga akan diberikan pilihan ketiga sekirannya mereka ingin bercakap dengan pegawai sokongan krisis dari Pertubuhan Pertolongan Wanita (WAO) mengenai kes-kes seperti penderaan kanak-kanak dan keganasan rumah tangga melalui sistem respon automatik. Setelah disambungkan, WAO akan memberikan khidmat nasihat mengenai pilihan-pilihan yang ada bagi mangsa keganasan rumah tangga, dan sekiranya perlu, akan membantu individu yang memerlukan untuk mendapatkan perlindungan daripada pihak polis.
WAO kini menugaskan 14 orang pegawai sokongan krisis yang aktif dalam mengendalikan panggilan hotline, serta kakitangan lain yang sentiasa bersedia dengan jangkaan peningkatan panggilan dan permintaan bantuan mengenai keganasan rumah tangga. Kesemua kakitangan ini akan membantu 19 orang sukarelawan psikososial daripada MERCY Malaysia dan 10 orang kaunselor daripada Kementerian Kesihatan yang mengendalikan hotline pada ketika ini.
Pada ketika Perintah Kawalan Pergerakan dikuatkuasakan dalam menangani penularan pandemik COVID-19, ramai wanita dan kanak-kanak yang berisiko untuk 'terkurung' di dalam rumah yang sama dengan pendera. Pada masa yang sama, kebanyakan peruntukan digunakan untuk menangani pandemik ini, lantas mengurangkan peruntukan untuk perkhidmatan sosial dalam infrastruktur kritikal sosial, akses kepada sistem keadilan, serta perkhidmatan kesihatan seksual dan reproduktif yang amat penting dalam melindungi mangsa keganasan rumah tangga.
Hotline sokongan psikososial COVID-19 akan membolehkan kami membantu lebih ramai mangsa dera, yang berhadapan dengan risiko yang lebih tinggi ketika PKP. Statistik terkini menunjukkan sekiranya PKP dilanjutkan, ianya akan meningkatkan lagi kes keganasan rumah tangga yang berlaku.
Pada awalnya, WAO melaporkan peningkatan sebanyak 44 peratus dalam panggilan Hotline WAO dan pertanyaan di WhatsApp dari Februari hingga Mac 2020. Kemudiannya, kami mendapati peningkatan yang lebih tinggi. Dalam separuh pertama bulan April, WAO menerima 264 panggilan dan pertanyaan WhatsApp, iaitu peningkatyan sebanyak 111.2 peratus berbanding 125 panggilan dan pertanyaan WhatsApp dalam masa 14 hari pada bulan Februari.
Hotline kerjasama antara kementerian dan NGO ini merupakan satu langkah yang amat penting. Ianya akan menerapkan kepentingan kerjasama antara kerajaan dan sektor ketiga pada masa yang diperlukan. Untuk memperkasakan lagi respon kepada keganasan rumah tangga ketika PKP, kami menegaskan kembali saranan kepada kerajaan untuk mengambil enam langkah-langkah penting ini:
Mengeluarkan SOP yang jelas dalam memberi respon kepada kes keganasan rumah tangga ketika PKP;
Memastikan para mangsa boleh mendapatkan Perintah Perlindungan Interim (IPO) dan Perintah Perlindungan Kecemasan (EPO);
Mewar-warkan saluran bantuan kepada para mangsa;
Menambahbaik dan meningkatkan rumah-rumah perlindungan, dan menyenaraikannya sebagai perkhidmatan penting;
Memastikan bantuan kewangan sampai kepada mangsa keganasan rumah tangga;
Memperuntukkan sumber yang mencukupi bagi memastikan respon kecemasan yang efektif.
Sekiranya dibiarkan tanpa perhatian, krisis kesihatan akan memburukkan keadaan ketidaksaksamaan gender, kewarganegaraan, etnik dan status sosioekonomi yang sudah sedia wujud di dalam masyarakat kita. Untuk membina semula ekonomi dan masyarakat yang berdaya tahan selepas pandemik ini berlaku, kita memerlukan respon nasional yang memenuhi keperluan unik setiap komuniti yang berbeza. Usaha baik daripada MERCY Malaysia dan KKM adalah satu langkah yang amat penting. Marilah kita bekerjasama untuk membina ketahanan bagi individu dan komuniti yang berisiko.
Kepada mangsa di luar sana, anda boleh menghubungi talian Hotline 24 jam WAO di 03 7956 3488 atau melalui WhatsApp di 018 9888 058 (24 jam), atau hubungi hotline sokongan psikososial COVID-19 MERCY Malaysia-KKM di talian 03 2935 9935 untuk pelbagai bantuan (8 pagi – 5 petang setiap hari).
###
妇女援助组织(WAO )携手大马医药援助协会及马来西亚卫生部,透过新冠肺炎(COVID-19)全国社会心理支援热线为家暴幸存者提供支援
自4月15日起,家暴及受虐儿童幸存者可透过全国性的新冠肺炎社会心理支援热线(03-2935 9935)寻求援助。此热线由大马医药援助协会(MERCY Malaysia)及卫生部全国危机准备及应对中心(CPRC)创设,现连接至妇女援助组织的家暴热线(03-7956 3488)。
除了原有的精神卫生及社会心理支援服务,此热线也为拨电者提供第三个选项,即面对家暴或虐待儿童案件时,可选择连接至妇女援助组织的危机支援服务自动回复系统。一旦连上,妇女援助组织将给予家暴幸存者意见,若有需要,也将协助相关人士寻求警方保护。
妇女援助中心目前有14位危机支援人员负责接听热线,另有许多职员待命中,以便随时应付预料增加的家暴求助。另外,也有来自大马医药援助协会的19位社会心理义工及目前负责操作热线的10位卫生部辅导员。
为防控新冠疫情全球大流行而实施的行动管制令,导致许多处于风险中的妇女及儿童被迫与施暴者"困"在同一栋房子里。与此同时,为了应对大流行,资源被分散,这些资源包括保护家暴幸存者时,迫切需要的关键社会基础设施,比方说社会福利、刑事司法系统运作,以及妇女性与生殖健康保健。
此新冠肺炎社会心理支援热线,将有助于触及更多在行管令期间,暴露在受虐风险下的幸存者。近期的数据显示,随着行管令的延长,家庭中的暴力行为只会加剧。
妇女援助组织最初的报告指出,在2020年2月至3月期间,妇女援助组织热线的来电及WhatsApp咨询增长了44% 。随后,我们看见了更大的增幅:4月份的上半个月,妇女援助组织接获264通来电及WhatsApp咨询,相较2月份同时期的125个来电,增幅为111.2%。
此卫生部及非政府组织的联合热线是重要的一步。它记载了在国家有需要时,政府与第三方组织的合作。为了进一步加强行管令期间对家暴事件的回应,我们在此向政府重申,6项必须采取的紧急措施:
发布回应行管令期间家暴事件的标准作业程序(Standard Operating Procedure或简称为SOP);
确保幸存者可取得临时保护令(Interim Protection Orders或简称为IPOs)及紧急保护令(Emergency Protection Orders或简称为EPOs);
宣传幸存者可使用的支援途径;
改善临时庇护所的可利用性,并将它们列为基要服务;
确保家暴幸存者获得金援;
拨给充足的资源,以确保有效的紧急回应。
若我们置之不理,这场公共卫生危机将无限扩大到围绕性别、公民权、种族和社会经济地位,各种已存在于我们社会中的不平等。要想在大流行后重建经济与社会的复原力,我们必须有一套针对各个群体特殊需求的全国回应。
大马医药援助协会及卫生部的努力实为往前跨了一大步,且让我们携手合作,协助处于风险下的个人及社群建立抗逆能力,尽早回到生活的正轨。
幸存者们,你们可拨打妇女援助组织24小时热线03 7956 3488 或 WhatsApp 至018 9888 058(24小时),也可致电大马医药援助协会—马来西亚卫生部新冠肺炎社会心理支援热线03 2935 9935,以获取更广泛的支援服务(每日早上8时至下午5时)。
###