WAO Petition for 7 Days of Paternity Leave Garners over 39,000 Signatures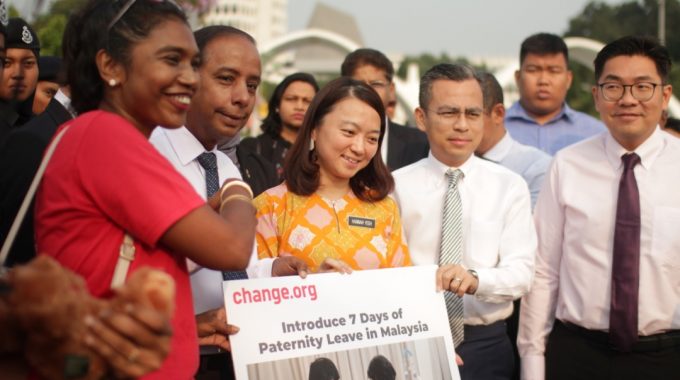 A petition by the Women's Aid Organisation (WAO) to call for at least seven days of paternity leave in the private sector has garnered over 39,000 signatures.
"Many Malaysians want paternity leave and the government must heed this call," said WAO Executive Director Sumitra Visvanathan when presenting the petition to Human Resources Minister M. Kulasegaran and Deputy Women, Family and Community Development Minister Hannah Yeoh in Parliament today.
"The three days of paternity leave proposed by the government is a positive step, but it's simply not enough. Fathers in the private sector deserve at least seven days of paternity leave, similar to the existing paternity leave in the public sector," Sumitra added.
Television personality and child advocate Daphne Iking, who was present at the petition handover, highlighted the importance of paternity leave in encouraging shared parenting.
"I am fighting for at least seven days of paternity leave to allow more fathers to play an active role during childbirth and to be there with the mother so they both can adjust and share the responsibility of taking care of the newborn."
"The crucial first week also allows fathers to be more hands-on with housework and take care of the baby and other kids, so mum can get her optimum rest and heal after labour."
Those who signed the petition also shared the challenges they had faced due to the lack of paternity leave.
"I just became a father recently and without proper paternity leave to care for my newborn baby, it is hard on my wife and me," explained Jasper Ooi.
Another petitioner, Priyasheni Paramasivan, also echoed Ooi's sentiment.
"I just gave birth to a premature baby and my husband had only two days of paternity leave. I still need him to check on the baby who is in the neonatal intensive care unit and support me," said Priyasheni.
Meanwhile, other petitioners emphasised that workplaces must better support parents.
"Seven days of paternity leave should be the absolute minimum. You can't expect your employee to perform at his best when you're forcing him to choose between work and family," said Abol Hanif Abol Munafi.
Paternity leave is common in many countries. Singapore has two weeks of paid paternity leave; Myanmar, 15 days; and the Philippines, between seven to 14 days.
Readers can sign the petition at bit.ly/rights4parents.
###
Petisyen WAO bagi Cuti Paterniti 7 Hari Meraih Lebih 39,000 Tandatangan
Satu petisyen oleh Pertubuhan Pertubuhan Pertolongan Wanita (WAO) bagi menuntut cuti paterniti sekurang-kurangnya tujuh hari di sektor swasta telah berjaya meraih lebih 39,000 tandatangan.
"Ramai rakyat Malaysia inginkan cuti paterniti dan kerajaan perlu menyahut hasrat ini," kata Pengarah Eksekutif WAO, Sumitra Visvanathan ketika menyerahkan petisyen tersebut kepada Menteri Sumber Manusia, M. Kulasegaran dan Timbalan Menteri Pembangunan Wanita, Keluarga dan Masyarakat, Hannah Yeoh di Parlimen hari ini.
"Cuti paterniti tiga hari yang dicadangkan oleh kerajaan adalah satu langkah yang positif, tetapi ianya tidak mencukupi. Para bapa yang bekerja di sektor swasta memerlukan sekurang-kurangnya tujuh hari cuti paterniti, sama seperti cuti paterniti yang telah diperuntukkan dalam sektor awam," tambah Sumitra lagi.
Personaliti televisyen dan pembela kanak-kanak Daphne Iking, yang turut hadir ketika penyerahan petisyen, menekankan tentang kepentingan cuti paterniti dalam menggalakkan penjagaan bersama.
"Saya berjuang untuk sekurang-kurangnya tujuh hari cuti paterniti bagi membolehkan para bapa memainkan peranan aktif ketika proses kelahiran dan ada bersama-sama si ibu supaya kedua-dua mereka boleh menyesuaikan diri dan berkongsi tanggungjawab untuk menjaga bayi baru lahir."
"Minggu kelahiran yang pertama turut membolehkan para bapa supaya lebih menumpukan perhatian dengan kerja-kerja rumah dan menjaga bayi serta anak-anak yang lain supaya si ibu boleh mendapat rehat yang optimum dan proses penyembuhan yang mencukupi selepas bersalin."
Mereka yang menandatangani petisyen juga berkongsi cabaran yang mereka hadapi oleh kerana cuti paterniti yang sedikit.
"Saya baru pertama kali menjadi bapa dan tanpa cuti paterniti yang mencukupi untuk menjaga bayi baru lahir, saya dan isteri mengalami kesukaran," jelas Jasper Ooi.
Seorang lagi penanda tangan petisyen, Priyasheni Paramasivan, turut menyuarakan kebimbangan Ooi.
"Saya baru sahaja melahirkan bayi pra-matang dan suami saya hanya mendapat cuti dua hari. Saya masih memerlukan dia untuk bersama menjaga bayi yang masih berada di unit penjagaan intensif neonatal dan membantu saya," kata Priyasheni.
Sementara itu, penanda tangan petisyen yang lain turut menekankan bahawa majikan harus memberi sokongan yang lebih baik kepada para ibu bapa.
"Cuti paterniti tujuh hari perlu dijadikan hari cuti minimum yang diberikan. Majikan tidak boleh menjangkakan pekerja untuk bekerja dengan baik sekiranya mereka memaksa pekerja untuk memilih antara kerja dan keluarga," kata Abol Hanif Abol Munafi.
Cuti paterniti telah menjadi kebiasaan di kebanyakan negara. Singapura memperuntukkan cuti paterniti dua minggu berbayar; Myanmar, 15 hari; dan Filipina, antara tujuh hingga 14 hari.
Petisyen ini dilancarkan sejak Jun 2019, telah meraih __ tandatangan yang mana __ telah ditandatangani secara atas talian dan 462 secara biasa.
Pembaca boleh menandatangani petisyen di bit.ly/rights4parents.