WAO urges Cabinet to support 7-day paternity leave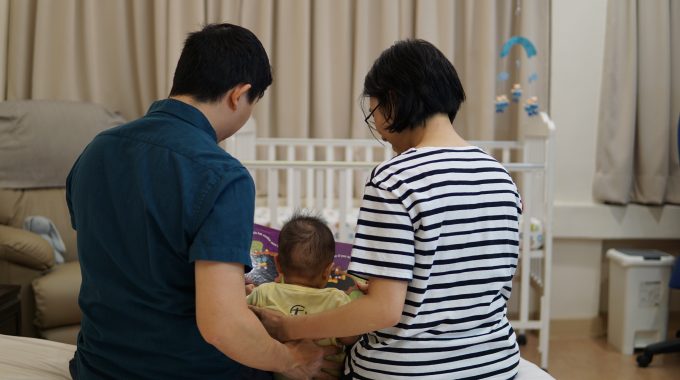 Women's Aid Organisation (WAO) has called on cabinet ministers to support the proposal for seven days of paternity leave, following Human Resources Minister M. Kula Segaran's announcement that he will bring the proposal to the Cabinet for approval.
"We thank Human Resources Minister M. Kula Segaran for his commitment to bring the seven-day paternity leave proposal to the Cabinet. We now call on cabinet ministers to support the proposal," said WAO Executive Director Sumitra Visvanathan.
Sumitra added that paternity leave promotes the sharing of parenting responsibilities, which improves the wellbeing of families.
"Paternity leave will enable fathers to play an active role during childbirth and to adjust to the monumental life changes that accompany fatherhood."
"Various studies show that children with involved fathers have better social, emotional and cognitive development, and perform better in school."
"Introducing paternity leave also sends the message that caregiving is a shared responsibility. Such changes in social norms would help women to stay in the workforce, which is one of the goals of Budget 2020."
The Khazanah Research Institute estimates that a whopping 2,563,800 women in Malaysia were not working due to "housework or family responsibilities"—compared to just 69,800 men.
Sumitra further highlighted that keeping women in the workforce would benefit the economy in the long-run.
"According to the World Bank, Malaysia's income per capita could increase by 26.2 per cent, if we were to close the gender gap in economic opportunities. About three-quarters of this increase would result from enabling women to enter and stay in the workforce."
Currently, fathers in the private sector are not legally entitled to any paternity leave, while fathers in the public sector enjoy seven days of paid paternity leave.
On 13 November, WAO presented a petition for seven days of paternity leave to Kula Segaran. The petition, which is available at bit.ly/rights4parents, has garnered over 41,000 signatures.
Paternity leave is common in many countries. Singapore has two weeks of paid paternity leave; Myanmar, 15 days; and the Philippines, between seven to 14 days.
###
WAO menyeru Kabinet untuk menyokong cuti paterniti 7 hari
Pertubuhan Pertolongan Wanita (WAO) telah menyeru menteri kabinet untuk menyokong cadangan cuti paterniti tujuh hari rentetan pengumuman Menteri Sumber Manusia, M. Kula Segaran bahawa beliau akan membawa cadangan tersebut ke Kabinet.
"Kami mengucapkan terima kasih kepada Menteri Sumber Manusia, M. Kula Segaran atas komitmen beliau untuk membawa cadangan cuti paterniti tujuh hari ke Kabinet. Kami kini menyeru semua menteri untuk menyokong cadangan tersebut," kata Pengarah Eksekutif WAO, Sumitra Visvanathan.
Sumitra menambah bahawa cuti paterniti akan menggalakkan perkongsian tanggungjawab antara ibu dan bapa, sekali gus meningkatkan kesejahteraan keluarga.
"Cuti paterniti akan membolehkan para bapa memainkan peranan aktif semasa kelahiran anak di samping menyesuaikan diri kepada perubahan hidup setelah menjadi seorang bapa."
"Kajian menunjukkan bahawa anak-anak yang mendapat perhatian bapa mempunyai perkembangan kognitif, emosi dan sosial serta pencapaian academik yang lebih baik."
"Pengenalan cuti paterniti juga menyampaikan mesej bahawa penjagaan anak-anak adalah tanggungjawab bersama. Perubahan norma masyarakat ini akan membantu wanita untuk kekal dalam pasaran kerja, yang merupakan satu matlamat kerajaan dalam Belanjawan 2020."
Institut Kajian Khazanah menganggarkan seramai 2,563,800 wanita di Malaysia tidak bekerja kerana "kerja rumah atau tanggungjawab keluarga" — berbanding dengan hanya sejumlah 69,800 lelaki.
Sumitra menekankan bahawa peningkatan penyertaan wanita dalam pasaran kerja akan meningkatkan ekonomi negara dalam jangka masa panjang.
"Menurut Bank Dunia, pendapatan per kapita di Malaysia mungkin meningkat sebanyak 26.6 peratus sekiranya jurang gender dari segi peluang ekonomi dirapatkan. Lebih kurang tiga per empat daripada kenaikan ini adalah daripada penyertaan wanita dalam pasaran kerja."
Pada masa ini, tiada peruntukan cuti paterniti untuk para bapa dalam sektor swasta, manakala para bapa dalam sektor kerajaan mendapat cuti paterniti selama tujuh hari.
Pada 13 November, WAO telah menyerahkan petisyen cuti paterniti  tujuh hari kepada Kula Segaran. Petisyen tersebut, yang boleh didapati di pautan bit.ly/rights4parents, telah meraih lebih 41,000 tandatangan.
Cuti paterniti telah menjadi kebiasaan di kebanyakan negara. Singapura memperuntukkan cuti paterniti dua minggu berbayar; Myanmar, 15 hari; dan Filipina, antara tujuh hingga 14 hari.