Teacher Noorfadilla's Battle Against Pregnancy Discrimination Recognised with Human Rights Award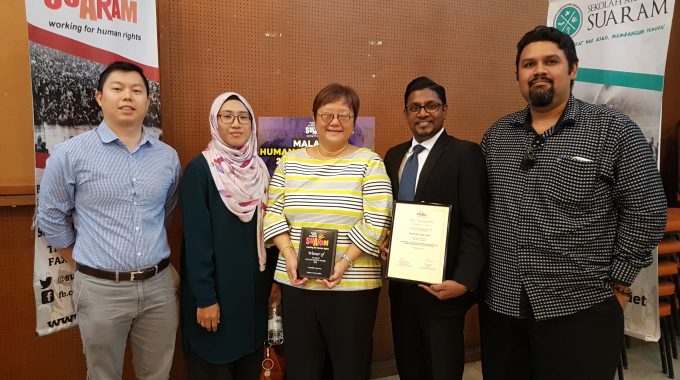 Noorfadilla Ahmad Saikin and her team, who fought pregnancy discrimination and won a landmark court case, jointly-won the SUARAM Human Rights Award 2018 on Tuesday.
The award recognises their pathbreaking ten-year pursuit of justice, which created legal precedents enabling other Malaysians to seek redress for pregnancy discrimination and breach of constitutional rights.
"The award by SUARAM was the first ever official recognition given to the whole legal team. I'm thrilled that the whole team was nominated for the award," says Noorfadilla.
"This case was made possible with the help of my lawyers and various groups. In medieval times, there were warriors or knights. Today, lawyers are knights in shining armour, fighting against injustice and oppression."
In 2009, the Hulu Langat Education District revoked Noorfadilla's job offer as a temporary teacher after she became pregnant.
With the support of lawyers Honey Tan, Edmund Bon, Joachim Xavier, Chen Yen Hui, Andrew Yong and Arina Ong, Noorfadilla sued the government.
In a landmark 2011 judgement, the High Court ruled that revoking a job offer due to pregnancy is gender discrimination and that the government had violated Article 8(2) of the Federal Constitution, which protects against gender discrimination.
In 2016, the Court of Appeals affirmed that pregnancy discrimination is a breach of constitutional rights and individuals can claim damages for breach of constitutional rights.
Finally, in 2018, the Federal Court awarded RM40,000 in damages to Noorfadilla.
"The Noorfadilla case is important because the court adopted the CEDAW definition of discrimination against women. This means that there cannot be direct or indirect discrimination against women," says lawyer Honey Tan.
"The CEDAW definition also recognises that discrimination can be intersectional. For example, a woman may be discriminated on the grounds of her gender, race or marital statuses simultaneously."
"Our next big challenge is to use the due diligence principle in CEDAW to hold non-state actors such as private companies accountable for gender discrimination."
"The case was to test the extent Malaysia was prepared to accept the CEDAW principles in pregnancy discrimination in the absence of a gender equality law," adds lawyer Edmund Bon.
"The courts have pulled through, and we are now hoping the Government will enact a Gender Equality Act that domesticates all of CEDAW to make it even more enforceable."
CEDAW is the UN Convention on the Elimination of All Forms of Discrimination Against Women.
Noorfadilla also received support from Y.B. Rodziah Ismail and Y.B. Zuraida Kamaruddin, who were at that time an EXCO member of the Selangor state government and the PKR Women's chief respectively, as well as Women's Aid Organisation (WAO) and the Joint Action Group for Gender Equality.
Congratulating Noorfadillla and her team on their award, WAO said that Noorfadilla's case represents hope and progress for women in Malaysia.
"This groundbreaking case has opened up new avenues for women to seek justice and claim their right to non-discrimination," says Sumitra Visvanathan, Executive Director of WAO.
"Moving forward, we urge the government to enact a Gender Equality Act to comprehensively protect against gender discrimination — and to accelerate the fulfillment of gender equality in Malaysia."
In addition to Noorfadilla and her case team, the other recipient of the SUARAM Human Rights Award was the National Union of Workers in Hospital Support and Allied Services.
The SUARAM Human Rights Award recognises contributions to human rights and the role of communities across the country in fulfilling the aspiration for a democratic Malaysia.
###
Perjuangan Noorfadila, Guru yang Menentang Diskriminasi terhadap Wanita Hamil Diiktiraf dengan Anugerah Hak Asasi Manusia
Noorfadilla Ahmad Saikin, barisan peguamnya serta para penyokongnya yang menentang diskriminasi terhadap wanita hamil, dan menang dalam kes mahkamah yang penting, terpilih memenangi bersama Anugerah Hak Asasi Manusia SUARAM 2018 pada Selasa lepas.
Anugerah ini merupakan pengiktirafan kepada perjuangan Noorfadilla, barisan peguamnya serta para penyokongnya yang menuntut keadilan selama sepuluh tahun, sekali gus membuka jalan bagi wanita Malaysia yang lain untuk menuntut keadilan terhadap diskriminasi kehamilan dan pelanggaran hak perlembagaan mereka.
"Anugerah SUARAM ini merupakan pengiktirafan rasmi buat pertama kalinya kepada seluruh barisan peguam saya. Saya amat gembira kerana pencalonan dibuat ke atas seluruh pasukan," ujar Noorfadilla.
"Kes ini menang kerana gandingan usaha barisan peguam saya dan juga pelbagai kumpulan lain. Jika dahulu kala, kita ada pendekar atau hulubalang, kini peguamlah perwira yang menentang ketidakadilan dan penganiayaan."
Pada 2009, Pejabat Pendidikan Daerah Hulu Langat membatalkan tawaran kerja kepada Noorfadilla sebagai guru sandaran setelah mendapat tahu beliau hamil.
Dengan sokongan barisan peguamnya, Honey Tan, Edmund Bon, Joachim Xavier, Chen Yen Hui, Andrew Yong dan Arina Ong, Noorfadilla bertindak menyaman kerajaan.
Dalam keputusan kehakiman 2011 yang amat penting, Mahkamah Tinggi memutuskan bahawa pembatalan tawaran kerja atas dasar kehamilan ialah diskriminasi gender, sekali gus melanggar Artikel 8(2) Perlembagaan Persekutuan yang melarang diskriminasi gender.
Pada 2016, Mahkamah Rayuan mengekalkan keputusan Mahkamah Tinggi bahawa diskriminasi terhadap kehamilan ini melanggar hak perlembagaan, justeru individu terbabit berhak menuntut ganti rugi kerana pelanggaran hak tersebut.
Akhirnya, pada 2018, Mahkamah Persekutuan memberikan ganti rugi sebanyak RM40,000 kepada Noorfadilla.
"Kes Noorfadilla ini penting kerana mahkamah telah menerima pakai definisi CEDAW berkenaan diskriminasi terhadap wanita, iaitu wanita tidak boleh didiskriminasi sama ada secara langsung atau tidak langsung," ujar Honey Tan, peguam Noorfadilla.
"Definisi CEDAW turut menggariskan bahawa diskriminasi boleh berlaku secara merentas skop. Sebagai contoh, wanita mungkin didiskriminasi atas dasar gender, bangsa atau taraf perkahwinannya secara serentak."
"Cabaran besar kami seterusnya adalah mengangkat prinsip usaha wajar (due diligence) dalam CEDAW ini bagi memastikan pihak bukan kerajaan seperti syarikat swasta, bertanggungjawab dalam isu melibatkan diskriminasi gender."
"Kes ini menguji sejauh mana Malaysia bersedia menerima pakai prinsip CEDAW dalam kes diskriminasi kehamilan disebabkan ketiadaan undang-undang kesamarataan gender ketika ini," tambah Edmund Bon, juga peguam Noorfadilla.
"Mahkamah telah berjaya menegakkan prinsip ini, maka kami berharap agar Kerajaan dapat menggubal sebuah Akta Kesamarataan Gender yang menerapkan semua prinsip CEDAW agar lebih mudah dikuatkuasakan."
CEDAW ialah Konvensyen PBB berkenaan Penghapusan Semua Bentuk Diskriminasi Terhadap Wanita
Noorfadilla turut menerima sokongan Y.B. Rodziah Ismail dan Y.B. Zuraida Kamaruddin, masing-masing ketika itu ahli EXCO kerajaan negeri Selangor dan Ketua Wanita PKR. Noorfadilla juga menerima sokongan daripada Pertubuhan Pertolongan Wanita (WAO) dan Joint Action Group for Gender Equality.
Ketika mengucapkan tahniah kepada Noorfadillla dan barisan peguamnya, WAO menyebut bahawa kes Noorfadillla mencetuskan harapan dan melambangkan kemajuan bagi wanita Malaysia.
"Kes yang amat penting ini telah membuka ruang baharu bagi wanita yang menuntut keadilan dan hak mereka agar tidak didiskriminasi," ujar Sumitra Visvanathan, Pengarah Eksekutif WAO.
"Sebagai langkah seterusnya, kami menggesa kerajaan untuk menggubal Akta Kesamarataan Gender bagi melindungi wanita daripada diskriminasi gender secara menyeluruh – dan mempercepatkan pelaksanaan kesamarataan gender di Malaysia."
Anugerah Hak Asasi Manusia SUARAM, selain dimenangi oleh Noorfadilla dan barisan peguamnya, turut dimenangi oleh Kesatuan Pekerja-Pekerja Swasta Perkhidmatan Sokongan Di Hospital-Hospital Kerajaan Semenanjung Malaysia.
Anugerah Hak Asasi Manusia SUARAM memberi pengiktirafan kepada hak asasi manusia dan peranan komuniti di seluruh Malaysia yang berusaha mengangkat aspirasi negara sebagai Malaysia berdemokrasi.