Amend the Employment Act to Ensure Rights for Parents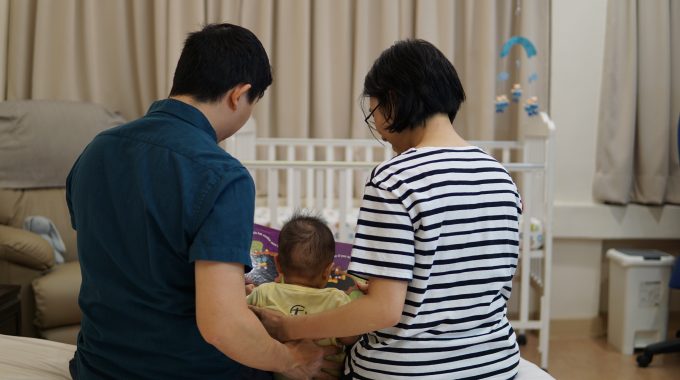 As we celebrate Parents' Day this Saturday, let us do right by parents and support laws that safeguard their rights in the workplace.
We all know how challenging it is to raise children while juggling the demands of work. And the balancing act is even tougher for parents who are not only working and raising children, but also caring for elders.
Parents face discrimination at work
The challenges that parents face go beyond balancing multiple roles; many parents also have to contend with discriminatory perceptions of their capabilities in the workplace. A WAO survey showed that over 40 per cent of pregnant women had faced discrimination in the workplace — they were made redundant, denied promotions, placed on prolonged probations, demoted, and terminated.
Additionally, a landmark study by researchers at Cornell University found that mothers are perceived to be less competent and committed than women without children — even when they have similar credentials. This is known as the "motherhood penalty".
Future parents are also not spared from discrimination. About 40 per cent of women whom WAO surveyed said that interviewers had asked whether they were pregnant or had plans to become pregnant in the future. Interviewers also frequently ask women about their marital status during hiring.
In contrast, interviewers are far less likely to ask men about their marital status or plans to start a family. This highlights how many see caregiving as primarily "women's work". Such notions not only discriminate against women, but also discriminate against men who share in caregiving responsibilities and may also require paternity leave or flexible work arrangements.
Pass the proposed amendments to the Employment Act
Clearly, parents and parents-to-be deserve better support and protection against discrimination in the workplace.
Thus, we welcome the Ministry of Human Resources' proposed amendments to the Employment Act, which includes the recognition of additional rights for parents. The Ministry's proposed amendments, as of March 2019, include the following:
Firstly, employees and job-seekers will be legally protected from discrimination on the basis of pregnancy, marital status, gender, race, religion, disability, and language.
Secondly, employees will be legally protected from termination due to pregnancy.
Thirdly, maternity leave will be extended from 60 days to 98 days, while fathers will receive three days of paid paternity leave. The introduction of paternity leave is a step forward in recognising caregiving as a shared responsibility, and this helps promote gender equality at home and at work.
Fourthly, employees can request for flexible work arrangements, subject to their employers' approval.
As the amendments to the Employment Act are still being finalised, we urge the Ministry to keep these amendments on the agenda and to table them in Parliament this July. We also call on Members of Parliaments to support and pass these amendments.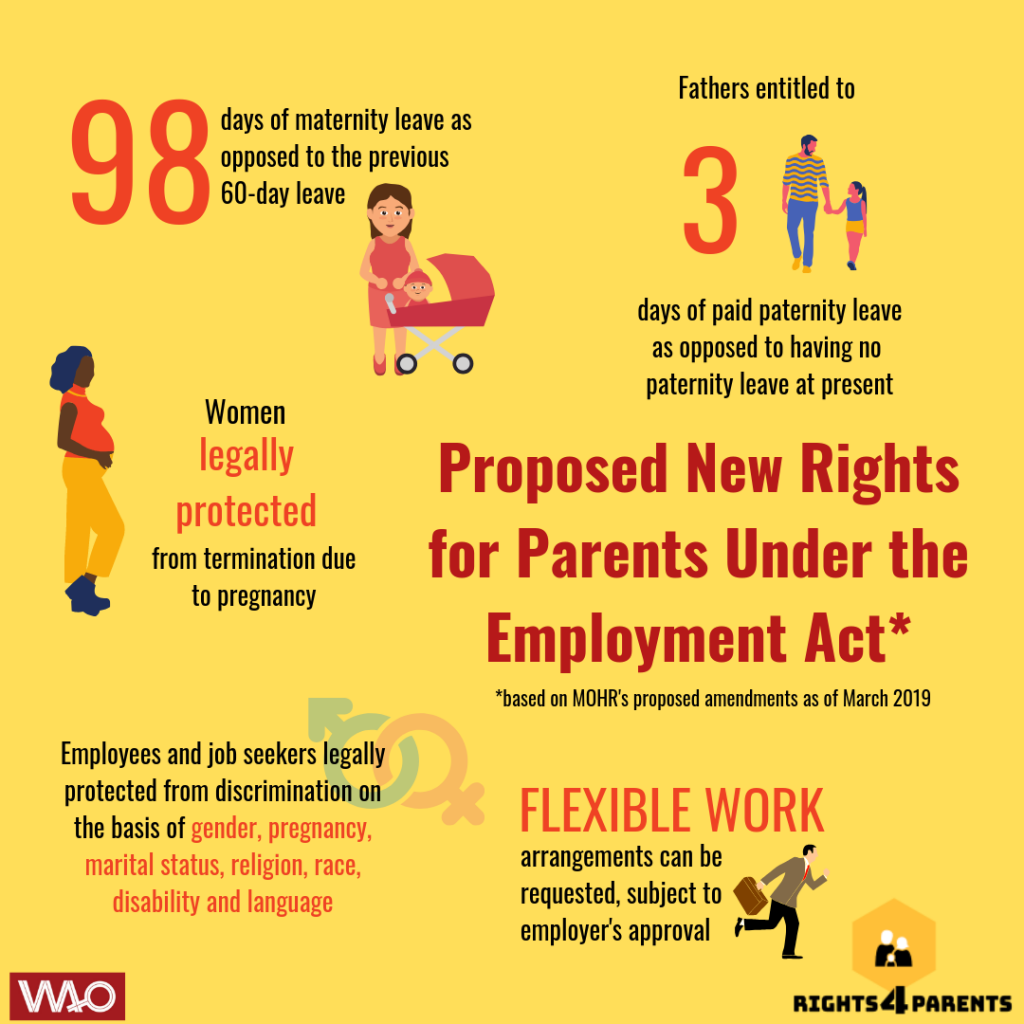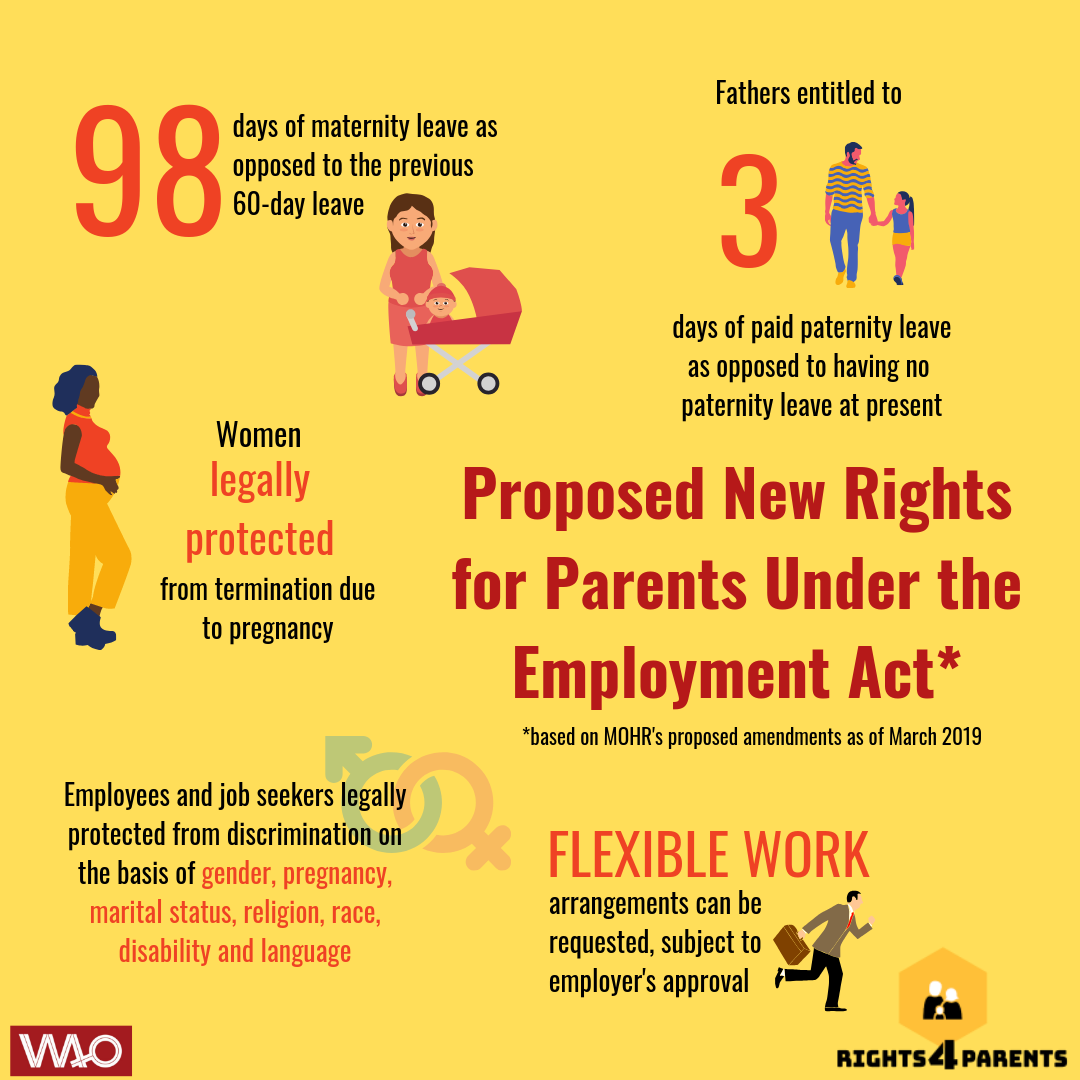 Improve the amendments to the Employment Act
These amendments can also be improved to further strengthen parents' rights in the workplace.
Firstly, "parental status" should be included as a prohibited ground of discrimination, in addition to pregnancy, marital status, and gender. This ensures that parents — both mothers and fathers — are legally protected from discrimination, not just during pregnancy, but also after they have children.
Secondly, victims of discrimination should be entitled to compensation. Currently, under the proposed amendments, if an employer discriminates an employee or terminates an employee during maternity leave or because of pregnancy, the employer may be fined up to RM 50,000.
However, punishing the employer doesn't directly help the victim, especially if the victim has been affected financially due to loss of employment. Hence, the law should also allow for compensation.
Thirdly, paternity leave should be extended to at least seven days, which is what fathers in the public sector currently enjoy. As a comparison, in Singapore, fathers are entitled to 14 days of paid paternity leave.
This Parents' Day, let us commit to protecting and supporting parents in the workplace. They deserve no less.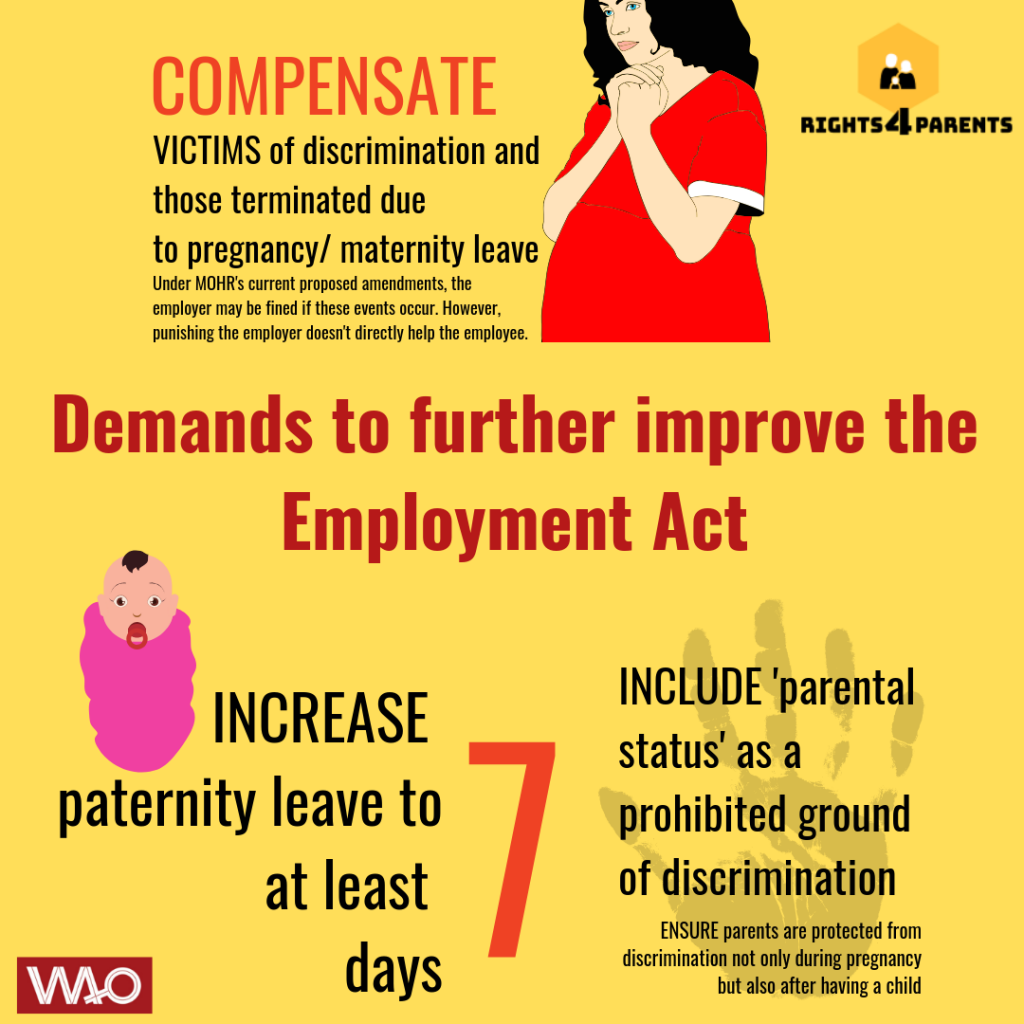 ###
Pinda Akta Kerja bagi Memastikan Hak Ibu Bapa
Menjelang sambutan Hari Ibu Bapa pada Sabtu ini, wajarnyalah kita mengangkat hak ibu bapa dan menyokong undang-undang yang melindungi hak mereka di tempat kerja.
Bukan kita tidak tahu betapa perit cabaran ibu bapa membesarkan anak-anak sedang mereka bergelut dengan bebanan kerja. Apatah lagi ibu bapa yang bukan setakat bekerja dan membesarkan anak-anak, malah turut menggalas tanggungjawab menjaga orang tua mereka.
Ibu bapa berdepan diskriminasi di tempat kerja
Cabaran yang terpaksa diharungi ibu bapa bukan sekadar pelbagai peranan yang dipegang; malah, ramai berdepan tanggapan yang mendiskriminasi kemampuan mereka di tempat kerja. Dalam hal ini, kaji selidik WAO menunjukkan lebih 40% wanita mengandung pernah menghadapi diskriminasi di tempat kerja mereka – mereka dijadikan pekerja 'berlebihan', dinafikan kenaikan pangkat, dilanjutkan tempoh percubaan, diturunkan pangkat, atau langsung dibuang kerja.
Bahkan, sebuah kajian penting oleh sekumpulan penyelidik di Cornell University mendapati bahawa, kaum ibu dilihat kurang kompeten dan komited berbanding wanita yang tiada anak – walaupun mereka setara dari segi kelulusan. Inilah yang disebut sebagai motherhood penalty, iaitu hukuman tidak wajar terhadap kaum ibu.
Bukan setakat itu, insan yang bakal bergelar ibu bapa juga tidak terkecuali daripada diskriminasi ini. Kira-kira 40 peratus wanita yang ditinjau oleh WAO menyebut, ketika ditemu duga, mereka ditanya sama ada mereka sedang mengandung atau merancang akan mengandung kelak. Malah, penemu duga juga kerap bertanyakan status perkahwinan wanita yang memohon kerja tersebut.
Sebaliknya, pertanyaan tentang status perkahwinan atau perancangan membina keluarga tidak sekerap itu diajukan kepada kaum lelaki. Hal ini menunjukkan rata-rata, orang ramai masih menganggap peranan menjaga keluarga ini adalah 'tugas kaum wanita'. Anggapan seperti ini bukan hanya suatu diskriminasi terhadap wanita, bahkan terhadap kaum lelaki yang turut menggalas tanggungjawab menjaga ahli keluarga dan memerlukan cuti paterniti atau waktu kerja fleksibel.
Luluskan cadangan pindaan kepada Akta Kerja
Oleh hal yang demikian, jelas bahawa ibu bapa dan bakal ibu bapa memerlukan sokongan dan perlindungan yang lebih ketara bagi mengekang diskriminasi di tempat kerja.
Justeru, kami mengalu-alukan cadangan pindaan kepada Akta Kerja yang diusulkan oleh Kementerian Sumber Manusia, kerana ia mampu mengangkat hak ibu bapa. Setakat bulan Mac 2019, cadangan pindaan oleh pihak Kementerian merangkumi, antara lain:
Pertama, warga kerja dan pemohon kerja dilindungi undang-undang daripada diskriminasi kerana mengandung, status perkahwinan, gender, kaum, agama, kelainan upaya dan bahasa.
Kedua, warga kerja dilindungi undang-undang daripada diberhentikan kerja kerana mengandung.
Ketiga, cuti bersalin atau materniti dilanjutkan daripada 60 hari kepada 98 hari, dan kaum bapa berhak mendapat cuti paterniti berbayar untuk tempoh tiga hari bekerja. Cuti paterniti yang diperkenalkan ini ialah langkah yang betul kerana ia suatu pengiktirafan bahawa tugas menjaga keluarga ialah tanggungjawab bersama, sekali gus mampu mengangkat kesetaraan gender di rumah dan tempat kerja.
Keempat, warga kerja berhak memohon waktu kerja anjal atau fleksibel, tertakluk kepada kelulusan majikan.
Memandangkan pindaan Akta Kerja ini belum dimuktamadkan, kami menggesa pihak Kementerian agar mengekalkan pindaan ini dalam agenda mereka dan membentangkannya di Parlimen pada Julai ini. Kami turut menyeru Ahli-Ahli Parlimen agar menyokong dan meluluskan pindaan tersebut.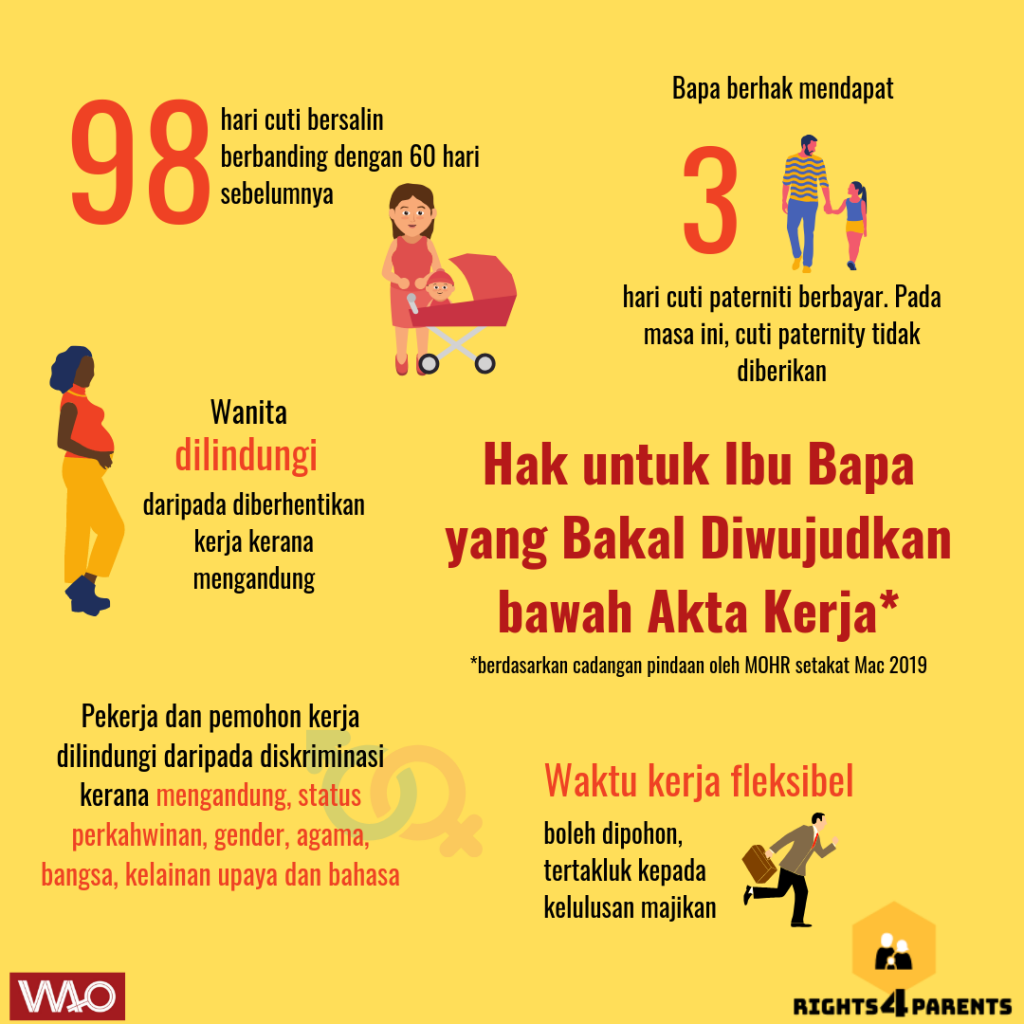 Pindaan Akta Kerja perlu dipertingkatkan
Akan tetapi, pindaan Akta Kerja ini sebenarnya boleh ditingkatkan lagi bagi memperkukuh hak ibu bapa di tempat kerja.
Pertama, "status sebagai ibu bapa" perlu disenaraikan sekali dalam larangan diskriminasi yang ketika ini terhad atas dasar mengandung, status perkahwinan, dan gender. Hal ini bagi memastikan kedua-dua ibu dan juga bapa dilindungi undang-undang daripada diskriminasi, bukan hanya ketika tempoh mengandung, malah selepas tempoh bersalin.
Kedua, mangsa diskriminasi berhak mendapatkan pampasan. Di bawah cadangan pindaan ketika ini, sekiranya majikan mendiskriminasi pekerja atau memberhentikan pekerja ketika beliau sedang cuti bersalin atau disebabkan kehamilannya, majikan boleh didenda sehingga RM50,000.
Namun, tindakan menghukum majikan semata-mata tidak membantu mangsa, apatah lagi jika kedudukan kewangan mangsa tergugat lantaran kehilangan kerja. Justeru, undang-undang sepatutnya memberi hak pampasan kepada mangsa.
Ketiga, cuti paterniti patut dilanjutkan sekurang-kurangnya kepada tujuh hari, seiring dengan hak cuti paterniti sektor awam ketika ini. Sebagai bandingan, di Singapura, kaum bapa layak mendapat cuti paterniti sehingga 14 hari.
Bagi menyambut Hari Ibu Bapa kali ini, berilah komitmen untuk melindungi dan menyokong kaum ibu bapa di tempat kerja. Mereka berhak diberikan perlindungan sepenuhnya.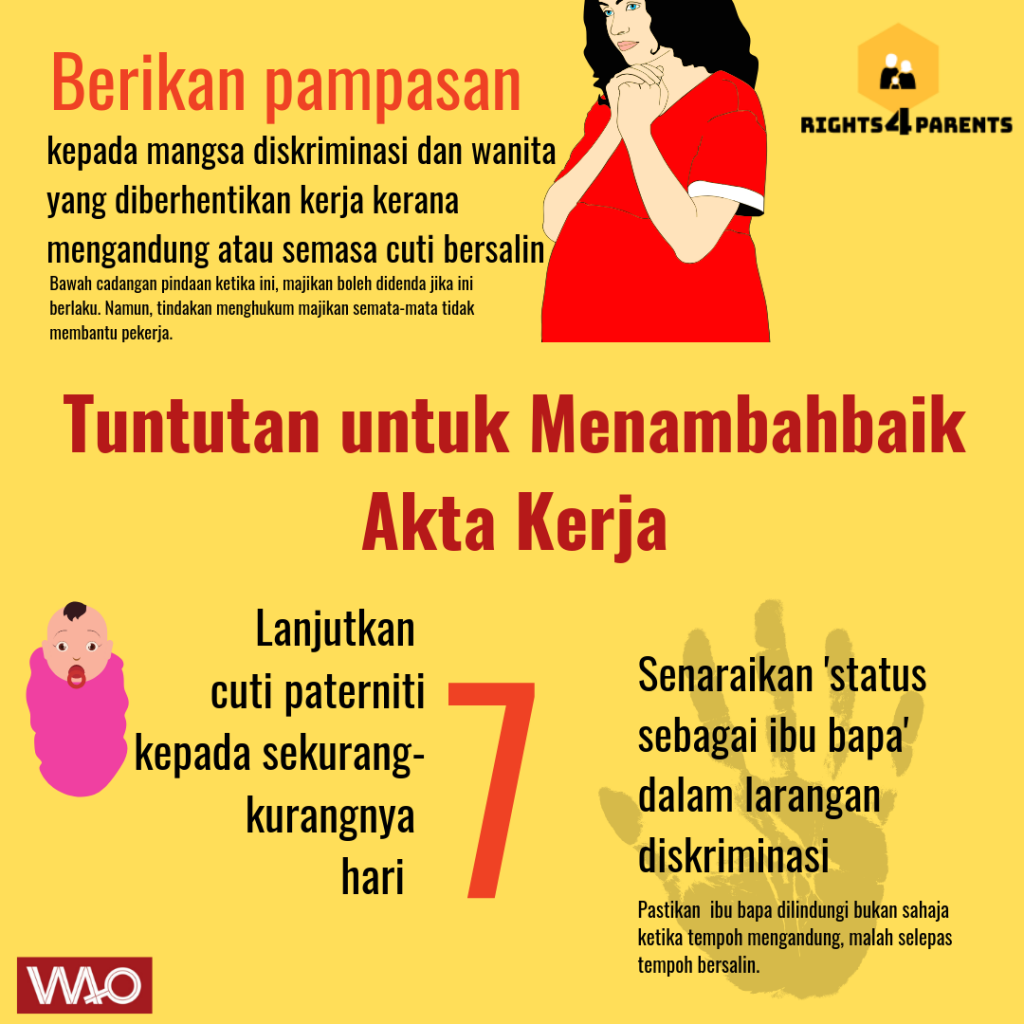 ###
修订雇佣法令以保障家长权益
欢庆来临星期六的双亲节之际,且让我们为家长的权益发声,支持法律的制定,捍卫为人父母者的职场权益。
在职父母在应付工作和养育孩子间蜡烛两头烧,面对极大的挑战是众所皆知的事,若是还得照料家中长者,更是雪上加霜,难以取得平衡。
在职父母面对职场歧视
在职父母所面对的挑战不仅仅是在各种身份的切换中取得平衡,不少人还得与专业能力被质疑的状况抗衡。妇女援助组织的一项调查显示,超过40%的怀孕妇女曾遭受职场歧视,她们成为被裁减的一员、被拒绝升迁、被刻意延长试用期、被降职,甚至被停职。
此外,一项出自美国康奈尔大学(Cornell University)的研究报告指,即便拥有同等的专业资格证明,相比尚未生育的女性,为人母者在职场上普遍被认为不够称职和忠诚。这即是我们熟知的"母职惩罚"(Motherhood Penalty)。
计划生育的未来父母也无法幸免。参与妇女援助组织调查的其中40%女性透露,面试新工作时,面试官曾提问是否怀有身孕或是否有怀孕的计划。一般上,面试官也会关注女性应试者的婚姻状况。
相较而言,面试官较少询问男性应试者的婚姻状况和他们组建家庭的意愿。这在在说明了大众往往把看护和照料视作"女人的任务"。这样的概念并非只是歧视女性,反之也一并歧视了分担照料工作,也该享有陪产假或弹性工作的男性。
通过雇佣法令修订建议
显然,在职父母或是即将为人父母者理应获得更好的支持和保障,以对抗职场歧视。
因此,我们支持人力资源部提呈的雇佣法令修订建议,该于2019年3月提呈的修法建议,添加了在职父母的权益,内容涵盖:
一,员工或求职者将获得法律保障,免于因怀孕、婚姻状况、性别、种族、宗教、残疾和语言而受到歧视。
二,员工将获得法律保障,免于因怀孕被解雇。
三, 产假将从60天延长至98天,为父者可获得三天有薪陪产假。陪产假的推介是认同照料孩子为共同责任的第一步,这有助于促进家庭里及职场上的性别平等。
四, 员工可要求弹性工作制,并受制于雇主的许可。
以上修法建议仍在审议中,我们敦促人力资源部将之列为议程,并在来临7月带入国会。同时,我们也吁请国会议员支持并通过这项法令修订。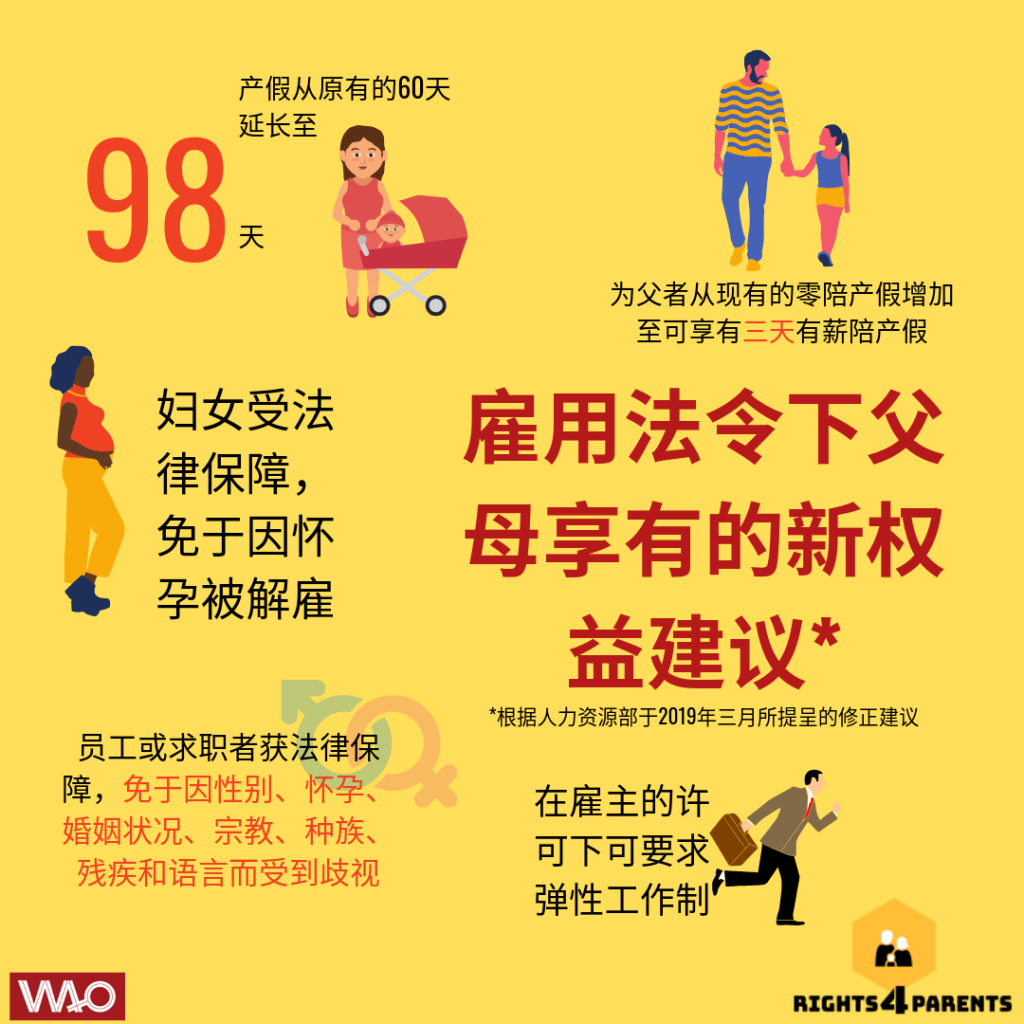 改进雇佣法令的修订
相关法令的修订可进一步改善,以巩固在职父母的职场权益。
首先,除了怀孕、婚姻状况和性别,"父母状况"(Parental Status)也应被列为禁止歧视的理由。这将保证双亲——无论是母亲还是父亲,都能获得免于遭受歧视的法律保障,并且不局限于孕期,也包括生产之后,养育孩子的时期。
第二,遭受歧视的受害者应获得赔偿。目前,在已提呈的修法建议中,若雇主在员工怀孕或产假期间歧视或将他们解雇,雇主将面对最高5万令吉的罚款。
然而,惩罚雇主对受害者不起直接助益,尤其是因被解雇而陷入经济困境的受害者。因此,法律应允许受害者寻求赔偿。
第三,陪产假应被延长至至少7天,既与现时公共领域中的在职父亲享有的一致。相比之下,新加坡的在职父亲目前享有14天的有薪陪产假。
这个双亲节,就让我们一同承诺,保障和支持在职父母。那是他们应得的。