WAO domestic violence services available virtually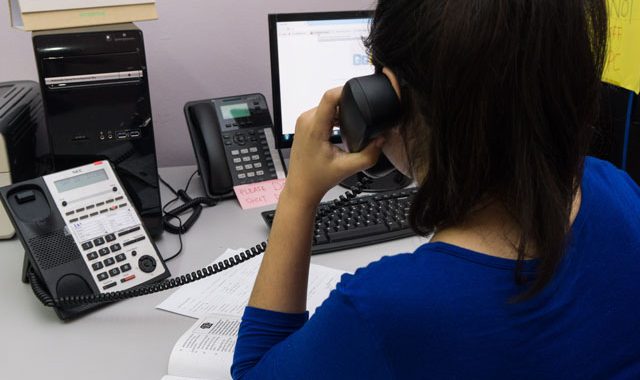 Women's Aid Organisation (WAO) services for domestic violence survivors remain available virtually throughout 18-31 March 2020 (the COVID-19 restricted movement period).
This includes case consultations (phone/WhatsApp), counselling (video), and other crisis support. WAO services are free and confidential.
If you or someone you know is experiencing domestic abuse (or other forms of gender-based violence), contact:
WAO Hotline: +603 7956 3488 (24 hours)
TINA (WhatsApp): +6018 988 8058 (24 hours)
You can also visit wao.org.my for information on domestic violence and how to get help.
We also urge neighbours and the public to be extra vigilant.
If you witness or suspect domestic abuse, reach out to the survivor when it is safe, and advise them to call WAO. If it is an emergency, you can contact the police (999). If you need information, you can contact WAO.
We thank all frontliners, including the police, welfare officers, and hospital workers, for their service during this time.
###
Perkhidmatan keganasan rumah tangga WAO boleh didapati secara maya
Perkhidmatan Pertubuhan Pertubuhan Wanita (WAO) untuk mangsa keganasan rumah tangga masih boleh didapati secara maya, sepanjang 18 hingga 31 Mac 2020 (sepanjang Perintah Kawalan Pergerakan COVID19).
Perkhidmatan termasuk khidmat nasihat kes (telefon/WhatsApp), kaunseling (video), dan sokongan krisis yang lain. Perkhidmatan WAO adalah percuma dan rahsia.
Sekiranya anda atau sesiapa yang anda kenal sedang mengalami keganasan rumah tangga (atau apa-apa sahaja jenis keganasan berasaskan gender), hubungi:
Talian Bantuan WAO: +603 7956 3488 (24 jam)
TINA (WhatsApp): +6018 988 8058 (24 jam)
Anda juga boleh melayari wao.org.my untuk maklumat lanjut mengenai keganasan rumah tangga dan cara-cara untuk mendapatkan bantuan.
Kami juga menyeru jiran tetangga serta orang awam untuk sentiasa prihatin.
Sekiranya anda menyaksikan atau mengesyaki sebarang keganasan rumah tangga berlaku, cuba dekati mangsa apabila keadaaan selamat, dan nasihati mereka supaya menghubungi WAO. Sekiranya berlaku keadaan kecemasan, anda boleh menghubungi pihak polis (999). Untuk maklumat lanjut, sila hubungi WAO.
Kami mengucapkan terima kasih kepada kesemua pekerja barisan hadapan, termasuklah anggota polis, pegawai kebajikan masyarakat, dan pekerja hospital, atas perkhidmatan mereka pada waktu yang genting ini.
###
妇女援助组织在线提供家暴支援服务
妇女援助组织将于2020年3月18日至31日期间(新冠疫情行动限制令期间),为遭遇家暴的人士提供线上支援服务。
这些服务包括咨询案件(电话/WhatsApp)、辅导(视频),以及其他的危机支援服务。妇女援助组织的服务都是免费和保密的服务。
若您或您认识的人正遭遇家暴(或其他基于性别的暴力),请立即联络:
妇女援助组织热线:+603 7956 3488(24小时 )
TINA热线(WhatsApp):+6018 988 8058 (24小时)
您也可以游览wao.org.my 网站以获取关于家暴和如何取得援助的资讯。
同时,我们也敦促邻居和公众对周遭的家暴行为提高警惕。
若您发现或怀疑周遭出现家暴行为,请先确认当事人是否安全,然后建议他们联络妇女援助组织。若是情况危急,您可立即拨打电话给警方(999)。若您需要进一步的资讯,也可直接联络妇女援助组织。
我们感谢所有前线工作者,包括警察、福利部门官员,以及医院员工在这段期间为大众所提供的服务。
###